What are the best skills to learn to make money?
In this post, we'll go over the high-paying skills to learn for business owners, virtual assistants, and other independent contractors.
You'll have a successful career if you can master one of these skills.
I'll also suggest how to go about learning these in-demand skills for making money so that you can start working on it right away.
Let's get started.
In A Rush?
Creating niche websites is one of the best skills to learn to make money. It shouldn't come as a surprise to see this on KISS Investments, a blog about online businesses.
Although it's not a skill you can master easily, the lessons you learn can be applied to a variety of tasks.
Copywriting, web development, SEO, affiliate marketing, email marketing, and other areas are involved in this skill set.
Best Skills To Learn That Make Money
The following are some of the options for the best skill to learn to make money. They are helpful if you are looking to start something of your own or just increase your employment income.
Picking up any of the skills will put you on the path to greater financial freedom.
1. Skills For Web Development And Design
Making money online is possible if you can build websites for clients.
Also, this skill comes in handy when you are starting an online business. This is because of how far technology has advanced in this field.
Many people enter this industry by following YouTube tutorials, then creating websites for their family or relatives.
Using freelance websites like Upwork or Fiverr, web designers, and developers can earn money in more ways.
Depending on where you live, you might require a certification or formal training in order to work as an employee. If not, you'll need to have a strong resume and relevant experience to get a well-paid job.
Working for an agency, web developers and designers can make an average salary of $81,166.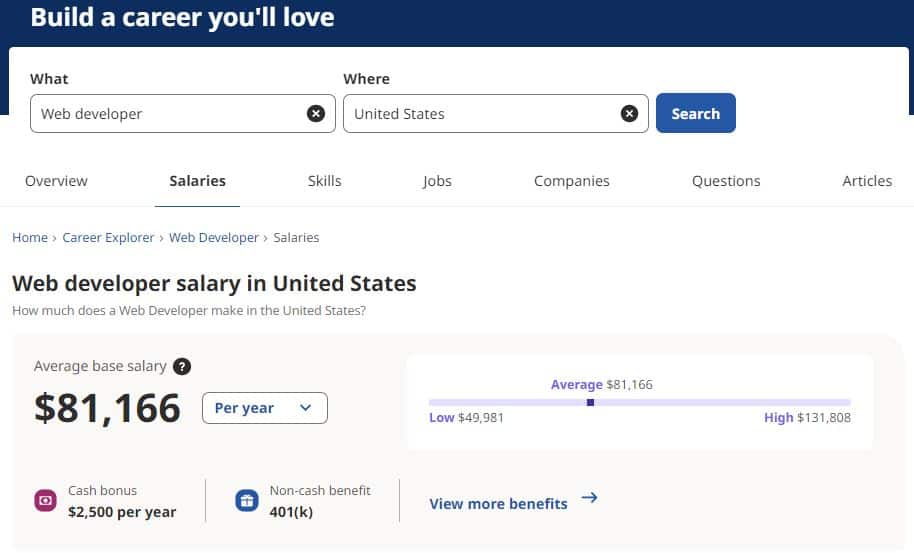 Also, independent web developers might earn anywhere from $50 to $100 or more.
Take an online course or watch several tutorials so that you can get started. Practice is the key to mastering web development and design.
Create your own websites or assemble a portfolio of work for neighborhood businesses to gain recognition as a web designer.
2. Virtual Assistants – Freelance Skills To Learn
Virtual assistants support owners of online businesses with a wide range of tasks, including:
List building
Data entry
Coding
Proofreading
Social media management
WordPress Troubleshooting
Even though a virtual assistant has lesser earning potential compared to others on the list, it is an easy choice for beginners to make money.
As a virtual assistant, there are many places where you can advertise your services.
On Upwork, competent virtual assistants can earn between $10 and $70 per hour.
Learn the fundamentals of marketing and web development if you are planning to become a virtual assistant.
Start with setting up plugins and configuring the most common WordPress themes to get comfortable with WordPress.
Then, learn as much as possible about email marketing, SEO, and niche websites.
You can start out as a virtual assistant. Once you gain more experience, you can provide more specialized services.
3. Newsletters And Email Campaign
A person who works with businesses to develop leads and generate email subscribers is known as an email marketer.
They will work with email marketing software, send newsletters, and design email campaigns.
The highest return in any firm is reportedly generated by this highly coveted expertise.
According to David Newman, "Email has an ability many channels don't: creating valuable, personal touches – at scale."
As a matter of fact, email marketing has an average ROI of $42 for every dollar spent.
Experts in email marketing earn, on average, $78,372 a year.
Moreover, freelancers can earn anywhere between $50 and $120 per hour.
Do you want to specialize in email marketing?
Many employers will look for someone with a University degree, although experience and a thorough grasp of the relevant technologies will also be highly valued.
There are numerous websites and YouTube videos that cover this area of online marketing. Check out various courses if you wish to gain this skill for making money.
Building your own affiliate marketing funnel is a fantastic way to pick up email marketing. You will gain practical experience building your own list through this kind of exercise.
4. Copywriting – Skills For Freelancing
The skill of writing persuasive sales copy is known as copywriting. It is a crucial aspect of any profitable business.
For businesses and companies to effectively convey the value of their services and products, they need this highly sought-after skill.
Without it, all sales would need to be verbal, which is not ideal in the current economic climate.
There are many ways for copywriters to make money – with your own company, as an independent contractor, or as a member of a marketing team in a company.
In the United States, a copywriter makes an average compensation of about $51,127 per year.
Moreover, freelancers can earn anywhere between $20 and $150 per hour.
If you would like to become a paid copywriter, you must first learn the fundamentals of copywriting. This could be done by reading the top copywriting books or watching YouTube videos.
You can also take an online course to learn everything that is needed.
There are several great copywriting courses on Udemy.
Afterward, you'll need to approach business owners, work with them and get some positive reviews.
Fiverr and Upwork are good places to start finding work. But since you won't have much in your profile when you get started, set lower rates, and raise them as you acquire experience.
5. Branding – Marketable Skills To Learn
The art of branding is what separates a company from its competition.
It can include everything from a straightforward logo to an entire company's identity, marketing, positioning, tone, and values.
Branding experts are masters at helping companies in making meaningful connections with their customers.
The typical pay for brand managers in businesses is around $80,141 per year.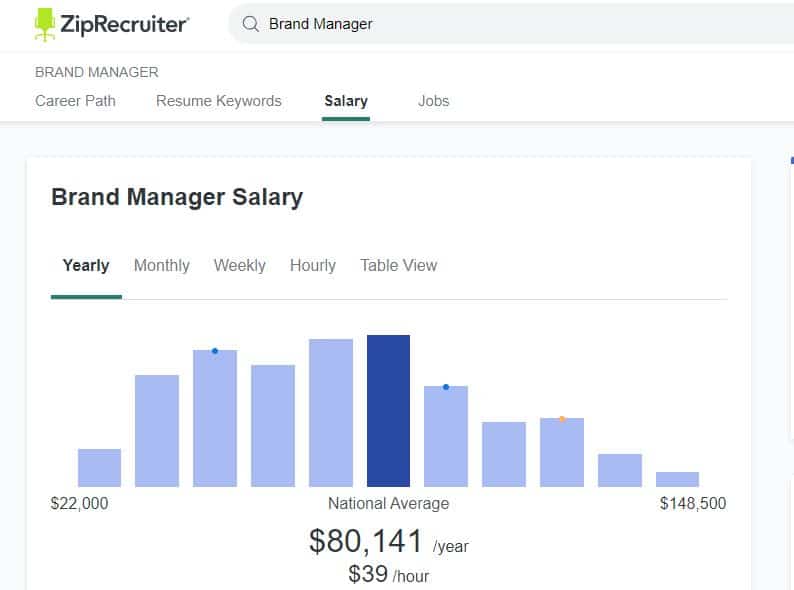 Your income will vary depending on your level of experience or area of specialty with this skill.
Upwork users are billing between $45 and $150 per hour as freelance branding specialists.
Start by learning the foundations if you want to work as an entrepreneur or a freelancer in this field.
There are several courses on Udemy to jumpstart your learning.
6. SEO – Skills That Make Money Online
One of the best digital marketing skills to work and make money online is SEO (Search Engine Optimization).
Because of the way search engines work, traffic will increase organically after a website has been properly optimized with content.
Now, more than ever, companies understand the need of optimizing their websites for search engines.
So, SEO is the best skill to learn to make money, whether you are working for a marketing agency, freelancing, or creating your own website.
An SEO expert makes, on average, $54,912 per year.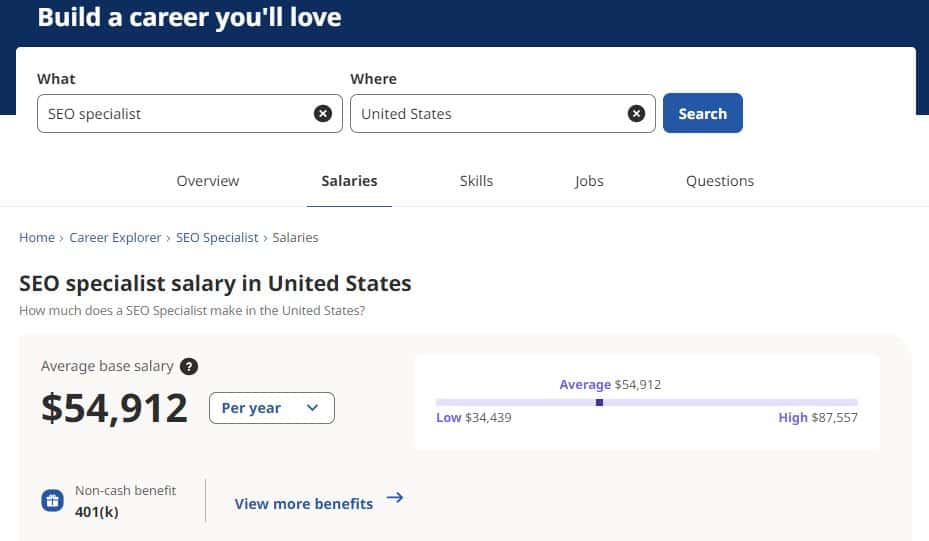 Also, Upwork's independent SEO consultants charge up to $200 per hour.
Using SEO, people can generate income in a number of ways:
As a consultant, a freelancer, a team member in a marketing firm, or by optimizing your own website.
It's not difficult to find information about SEO. There are many blogs on this topic, which would be a good place to start.
7. Coaching And Consulting – Skills For Starting A Business
A consultant works with professionals to solve problems. They offer practical solutions to help them succeed in a specific area related to their business.
In a similar manner, coaches take a more neutral approach by asking questions and providing a different perspective to clients.
Many business owners find it difficult to overcome their own internal battles, thus both are incredibly valuable skills to develop.
Hiring a consultant or coach can help individuals achieve quick progress in their professional or personal lives. This is better than spending years working through self-imposed limitations.
Based on several sources, a consultant at a consulting firm typically makes between $80,000 and $120,000 per year.
Moreover, independent consultants on marketplaces make between $60 and $225 per hour.
Industry, qualifications, and experience are just a few of the factors that affect how much money you can make as a consultant or coach.
There are various training programs and courses you can enroll in that will teach you whatever is needed in a matter of weeks.
If you wish to work in a company, you should consider earning a degree and certification.
8. Affiliate Marketing – Skills For Work From Home Jobs
An affiliate is someone that promotes a company's products or services, in return for a commission.
Anyone can start promoting items with affiliate marketing.
While Clickbank product commission rates often hover around 70% or more, affiliate programs like Amazon only give a very modest payout of approximately 3%.
Taking on the role of an affiliate manager is one way of earning money in this sector.
In this case, you would be in charge of overseeing and managing the company's relationship with the affiliates.
The average annual salary for an affiliate marketing manager is $89,700.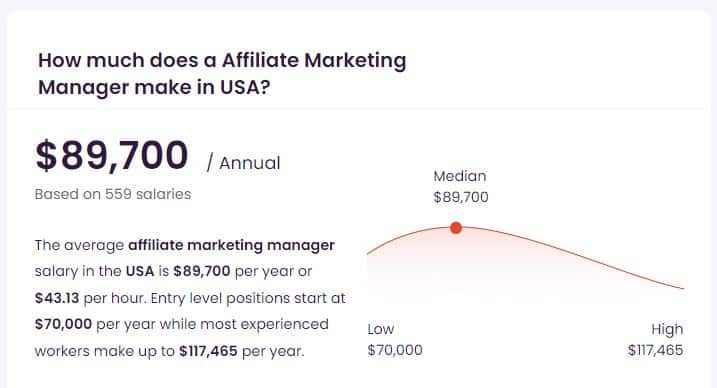 And the average hourly wage for these Upwork affiliate freelancers is $90 per hour.
Affiliate marketing skills can be acquired online through YouTube tutorials, courses, and blogs just like the other skills on the list.
There are many Udemy courses that will show you how to do it so that you can start earning commissions.
9. Content Marketing – Skills To Learn To Make Money For Students
The goal of content marketing is to use content to drive visitors and convert them to purchase a company's items or services.
In contrast to ads, which urge viewers to take action right away, content marketing takes a more nuanced approach.
Typically, through long or short-form content, content marketers provide solutions to the problems faced by customers. The effectiveness of the strategy and the costs associated with advertising keeps the skill high in demand.
An average content marketing specialist earns $84,566 yearly.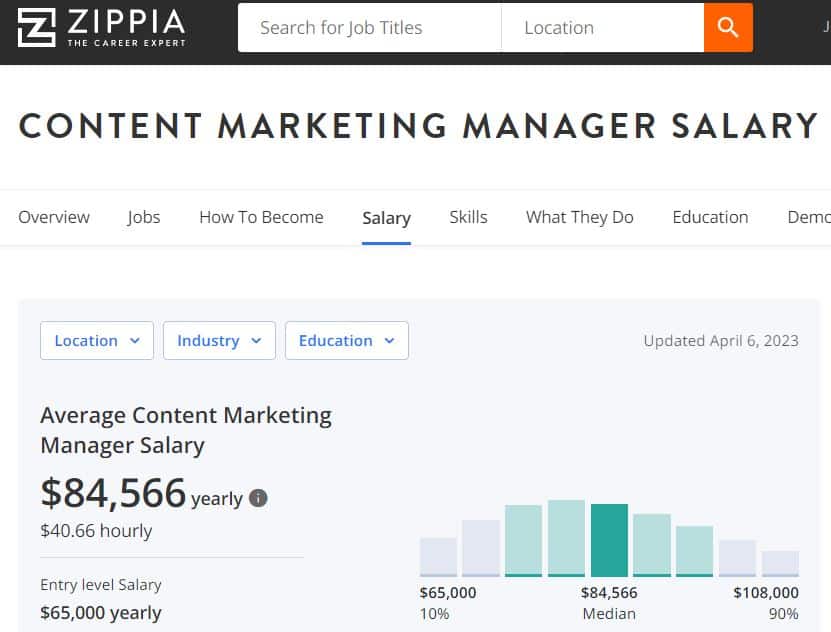 On Upwork, the majority of content marketers charge between $65 and $95 or more per hour.
If you are an entrepreneur, the best way to make money online is to work on your website and do content marketing.
First, you should start familiarizing yourself with content marketing. There are various blogs and online courses about content marketing that will be beneficial for your learning.
On Udemy, check out the courses on content marketing. There are plenty of them that are highly rated.
10. Video Making And Editing – Best Skills For Side Hustles
Today, more than ever before, companies and business owners are utilizing the power of video content to engage with their audience.
So, there will always be a demand for video making and editing.
This implies that those who are skilled in video production can make a good living working as a freelancer or for an agency.
In the US, video editors can expect to make about $54,170 annually.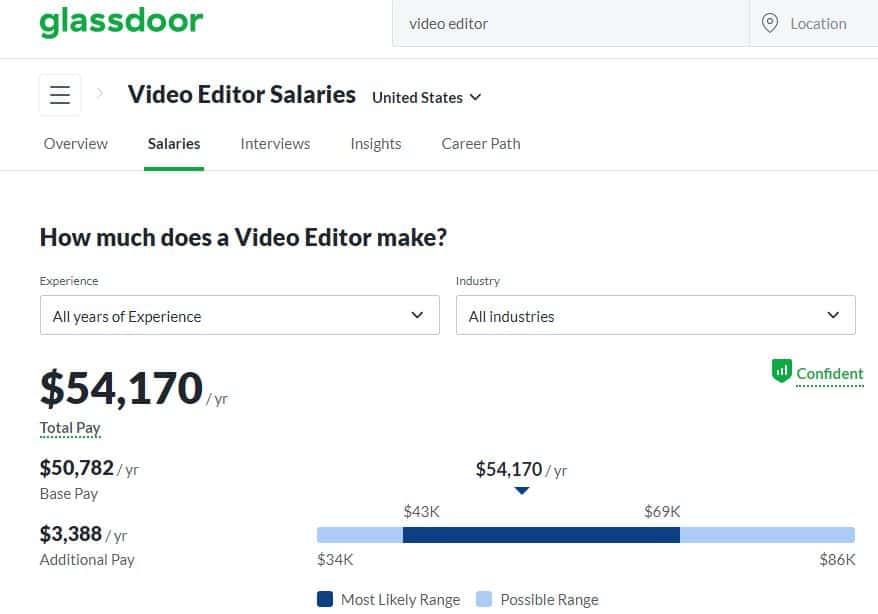 With Upwork, freelancers can earn between $25 to $55 per hour.
You must know how to use computer programs like Final Cut Pro or Adobe Premiere Pro if you want to become a video editor.
To make their work stand out, some editors also use special effects.
Fortunately, there are a ton of YouTubers that show you how to work with these tools.
It is a good idea to take an online course that will walk you through each step if you want to learn this skill set.
11. AI And Machine Learning – In-Demand Skills For Making Money
One of the highest-paid positions in the modern technology sector is that of a machine learning engineer. You should really think about this skill if you are planning to work in this field.
It entails studying and creating algorithms, predicting models, and general AI systems.
Because of the development of AI-powered content production tools over the years, the value and demand for this expertise have grown significantly.
Engineers that specialize in machine learning earn an average yearly salary of $122,161 based on their education and experience.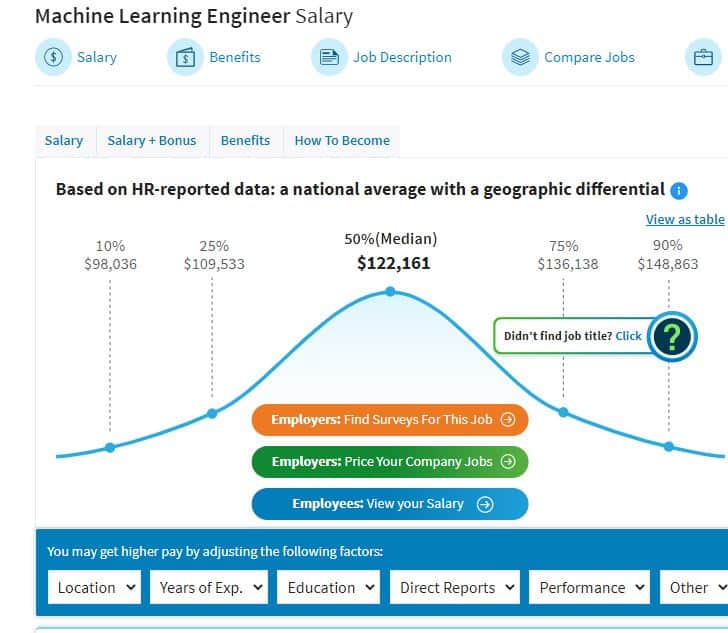 With Upwork, freelancers can earn between $60 and $250 per hour.
A machine learning engineer must be proficient in the following technologies and skills:
Machine learning patterns
NLP-based learning models
Supervised learning
Python
If this interests you, you'll be happy to learn all the information available online.
You can find classes as well as a ton of tutorials on YouTube to educate yourself and hone your skills.
12. Crypto And Blockchain
Another high-paying skill to learn on this list is working as a blockchain developer.
Businesses are becoming more engaged in this field of technology due to the popularity of cryptocurrencies.
A blockchain is a distributed database that facilitates and keeps track of transactions done using cryptocurrency.
It functions the same way as downloading files using torrents. Peer-to-peer technology is used to link specific portions of files and transfer them between computers.
Similarly, blockchain technologies increase security by not storing assets in a centralized network.
Depending on the complexity of the work, a blockchain developer's annual salary is typically around $145,800.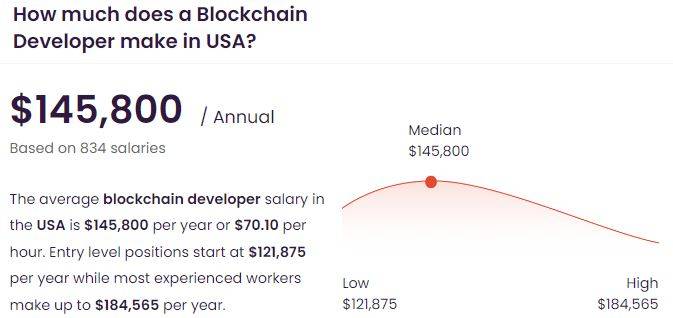 The hourly rate for independent blockchain developers ranges from $45 to $155.
As a blockchain developer, you would design systems that securely store blockchain transactions and prevent hacks.
Other aspects include:
Maintaining features for applications
Designing user interfaces
Developing client and server-related technologies
Fortunately, there are a variety of sources to educate yourself on cryptocurrencies and blockchain technology.
If you are interested, there are Udemy courses that cover this topic extensively.
Besides there are a number of free videos and tutorials on YouTube.
13. Project Manager
Within a company, a project manager oversees the execution of projects.
They are adept at forming cohesive teams and utilizing the individual skills of team members to get a project completed.
It's a highly qualified position present in many businesses so that they can run efficiently.
Project managers make an average of $85,075 a year, based on their qualifications and experience.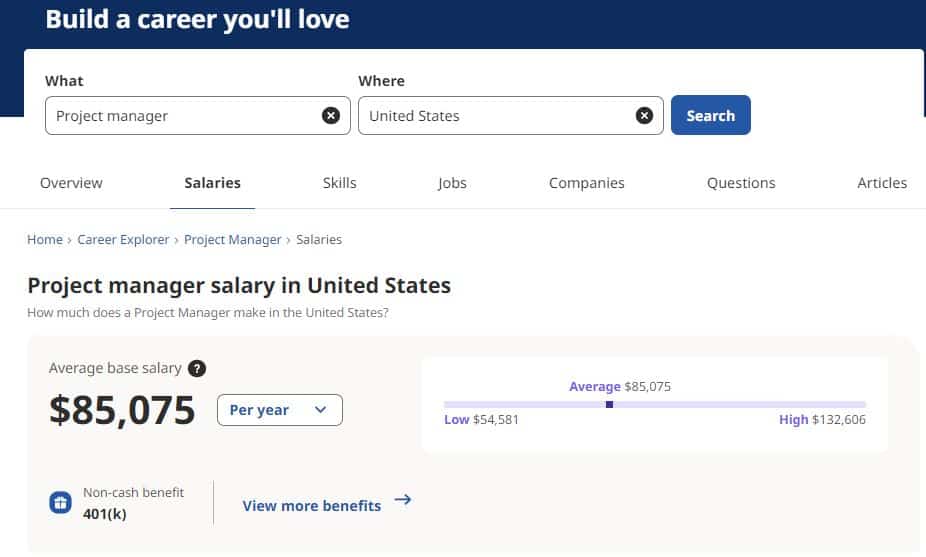 Freelancers on Upwork might charge anywhere from $20 to $55 an hour.
Project management involves a variety of skills:
Project management software expertise
Understanding of methodologies like Scrum, Waterfall, or Agile
Good communication
Problem-solving
Leadership
Negotiation
If you want to get better and assume greater responsibilities within a team, you should work on improving the above project management skills.
Try to get practical experience by working as a team member with a project manager. This is the best way to learn if you want to become a project manager.
14. Writing – Most Profitable Skills To Learn At Home
In the modern world, there are more options than ever for writers.
There is something for everyone, from writing blog posts and social media advertisements to producing books and professional studies.
Additionally, companies consider writing to be an important skill and pay well for it.
How much money you make as a writer depends on the type of qualifications and the amount of experience you have writing content.
The average yearly salary for writers in the United States is $62,236.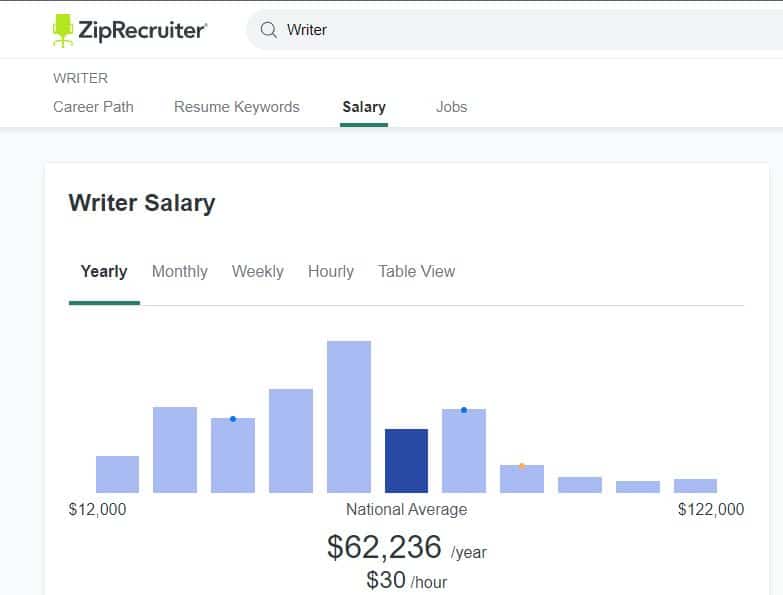 Also, if you want to work on freelance projects, the hourly rate ranges from $45 to $120.
The rates for more specific writing services are as follows:
SEO writers make $45/ hour
Book writers make $60/ hour
Copywriters make $65/hour
Technical writers make $60/ hour
Starting your own website and publishing a number of articles is one of the best approaches to launching a writing career.
Pick a specific niche that addresses a certain issue, and then submit your applications on job boards like Smart Blogger.
Your personal blog can be part of your online portfolio. Also, learn the basics of SEO.
Useful writing techniques can be learned via Udemy courses, YouTube videos, and freelance blogs.
15. Development Of Mobile Apps
One of the best skills to learn that makes money is mobile app development (or software engineering). Since the growth of mobile technology, the need for it has only increased.
Professionals in this position assist businesses in creating apps for their users. While some apps are a complement to the company's services or products, others are standalone products.
Apps exist for practically anything, and almost every industry makes use of them:
Social networking (Facebook)
Streaming entertainment services (Netflix)
Productivity apps (Slack)
Apps for meditation (Calm)
eCommerce platforms (Shopify)
Depending on expertise, the average income for an Application Developer is $106,526 per year.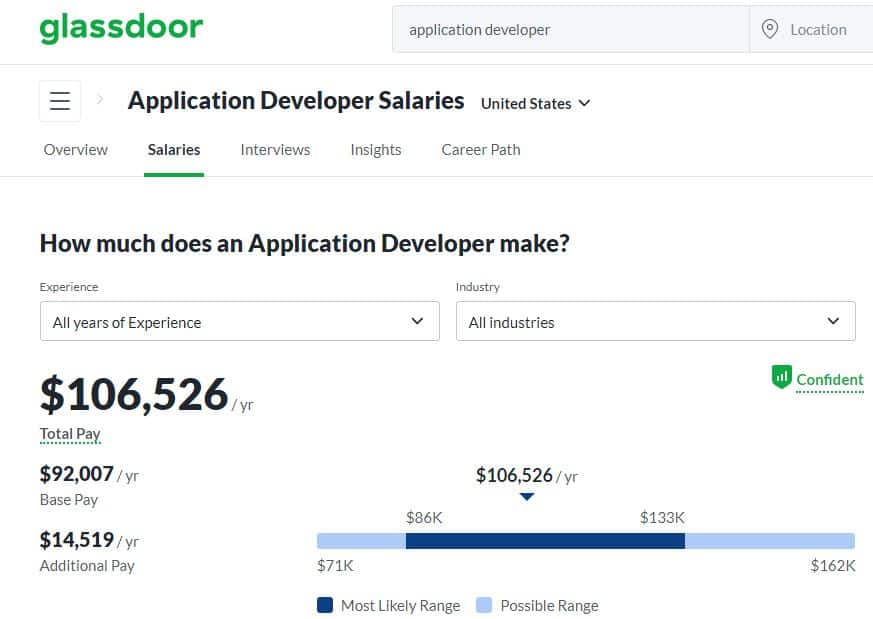 On Upwork, app developers charge between $25 and $75 per hour.
This is one of those jobs where talent matters. Of course, people can pick up new skills, but a particular mindset and way of thinking are necessary for software engineering.
There are many free tutorials and elaborate online courses available to specialize in this area.
16. Visual Design – Best Skills For Graphic Design
These days, graphics are required for everything, including:
Social media
Websites
Ads
YouTube
Products
The list keeps going.
Businesses use graphics to deliver information, engage with audiences more effectively, and increase product sales.
So, the need for graphic design professionals will keep increasing in the future.
The average salary for graphic designers working for a design agency is $49,092.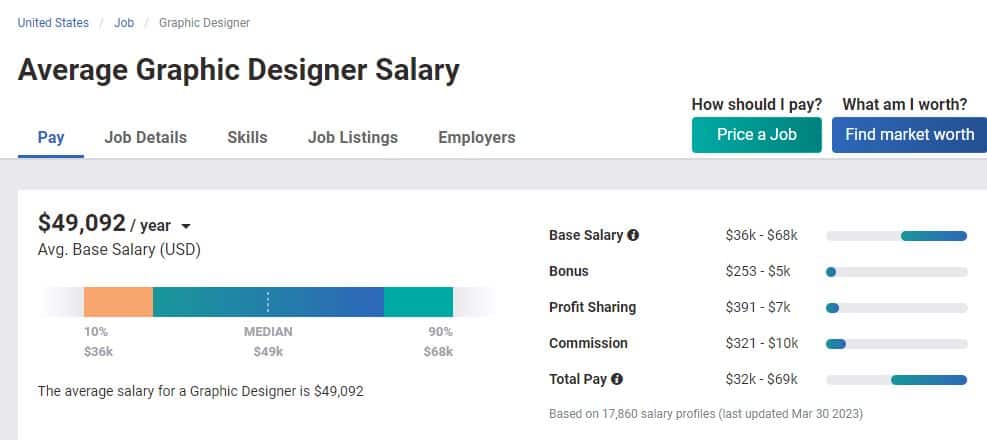 Alternatively, independent graphic designers can earn up to $60 per hour.
There are many opportunities to make money with your graphic design skills.
Here are some options in addition to working as a freelancer or for a design firm:
Create and design templates
Promote your custom design bundles on online marketplaces
Design and develop print-on-demand items like t-shirts and bags
In fact, there are several tutorials available online to master graphic design.
17. Best Skills For Digital Marketing – Social Media Marketer
One of the most powerful methods for marketing a business is social media marketing.
Many business owners work with social media marketers. These marketers handle everything for them because they lack the time or the expertise to manage it on their own.
The tasks involve:
Posting engaging content on social media platforms
Setting and achieving engagement goals
Interacting with followers on various accounts
Managing ads
Generating traffic to a blog, or website
Video marketing strategy (check out the best tools for YouTube video)
A social media manager makes an average salary of $70,287 per year in the United States.
Additionally, some Upwork freelancers charge between $12 and $75 per hour.
You can pick up these skills by helping a company with the development of its social media presence.
After that, you can use the experience and offer services to various companies.
YouTube has a wealth of free and useful resources to get started as a social media manager.
There are also different online courses where you can find all the information necessary to become a marketer.
Final Thoughts – So What Are The Best Skills To Make Money?
As we've covered so far, there are a number of skills that you can pick up and master to get wealthy. You don't have to know it all. If you just focus on one or two skills from the list, you can make a lot of money.
You must pick a skill based on your area of interest, technical proficiency, and formal education.
If you're getting started and have confidence in your abilities, you can base your choice on the amount of money you can expect to make.