Are you faced with the dilemma of choosing between two great writing assistants, Wordtune vs Grammarly?
These AI-powered tools have gained immense popularity among bloggers, writers, and anyone seeking to enhance their writing style with precision, professionalism, and efficiency. With a dedicated following built over the years, it's no wonder people are often torn between the two.
In this article, we'll delve deep into the main features of both tools and discuss how they can benefit your writing. By the end, you'll have a clear understanding of why Grammarly emerges as the ultimate choice.
Wordtune vs Grammarly Overview
Before we proceed, let's provide a brief overview of Grammarly and Wordtune for those who may be new to these grammar-enhancing tools.
What Is Wordtune?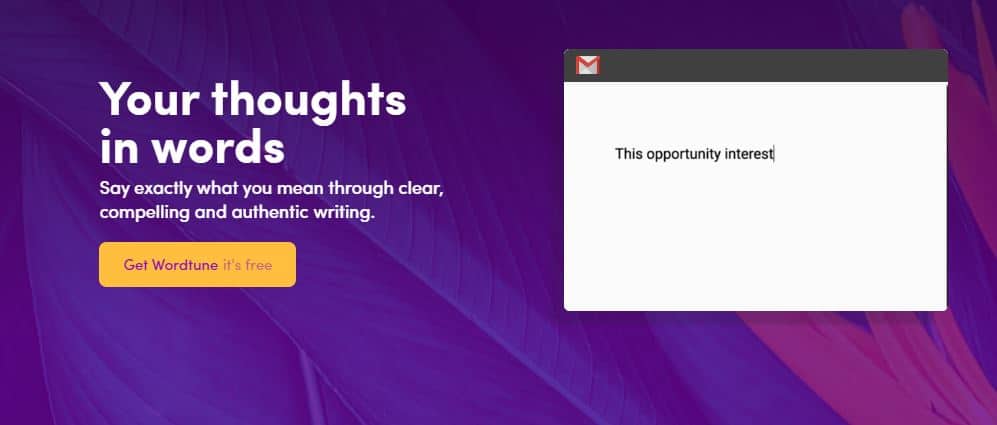 Wordtune is an AI tool designed to assist writers in sentence rewriting and identifying grammatical errors within their written content.
As a Wordtune extension on Google Chrome, it seamlessly integrates with various platforms, including Facebook, Google Docs, WhatsApp, Twitter, Gmail, Slack, Outlook, and many more.
Additionally, Wordtune offers an online editor where you can paste or write your content and make desired edits.
Started in 2018 by AI21 Labs, this tool adds a new dimension to spelling and grammar mistake detection.
What Is Grammarly?
Established in 2009, Grammarly stands as the most renowned online writing assistant available in the market. They boast over 30M active daily users.
Similar to Wordtune, Grammarly is powered by AI and presents users with a range of features to elevate their writing. Alongside its Google Chrome extension, Grammarly provides support for different browsers, like Microsoft Edge and Safari.
Leveraging natural language processing, Grammarly encompasses an all-in-one, cost-effective grammar checking tool that helps you avoid grammar errors, improve spelling, enhance sentence structure, maintain appropriate tone, prevent plagiarism, and even offers a sentence rewriting tool.
Grammarly vs Wordtune: Key Features
Now, let's dive into the main features offered by each tool and explore what makes them so well-liked among users.
Grammarly Features
Grammarly, much like Wordtune, provides an extensive array of features designed to enhance your writing and produce top-quality content.
However, it's important to note that certain features are exclusive to premium Grammarly Business members. Let's delve into the core features of Grammarly.
1. Grammar Checker
Grammarly's online editor is available to all users, both free and premium. With this tool, you can meticulously review your content for grammar discrepancies, spelling errors, conciseness, and punctuation issues.
Comparable to any other top-notch grammar checking tool, Grammarly swiftly highlights mistakes by underlining them. When you hover over a mistake, you'll receive suggestions for corrected words or alternative sentences.
Grammarly goes beyond simple word checks and provides recommendations to enhance the overall quality of your writing.
2. Engagement: Improve Your Vocabulary
Another premium option, the Engagement feature, identifies words in your content that have been repetitively used. These words are highlighted with a green line, signaling an opportunity to diversify your vocabulary.
Grammarly provides alternative synonyms for these words, allowing you to freshen up your writing and prevent monotonous language usage.
While most of the suggestions are worth accepting, it's important to exercise judgment and choose alternatives that truly enhance your writing rather than simply replacing words for the sake of it.
3. Clarity: Enhancing Sentence Coherence
Exclusively available to premium members, the Grammarly Clarity feature empowers you to rewrite sentences with greater clarity.
When a sentence is underlined in blue, you can click on it to explore alternative options to accept or reject. Otherwise, you can navigate to the Clarity section in the sidebar for an overview of suggested sentence improvements.
This feature is a valuable tool for refining your writing style and ensuring your message is conveyed with maximum clarity.
4. Plagiarism Tool: Ensuring Originality And Authenticity
Grammarly offers a powerful plagiarism tool as one of its advanced features, exclusively available to premium members. This tool lets you check your content for plagiarism by clicking on the dedicated option within the Grammarly editor.
Grammarly scans your text and compares it to several other websites online, providing you with a percentage indicating the extent of content similarity.
The plagiarism tool is highly useful for both checking your own content and verifying the authenticity of work provided by clients. It ensures that your writing is original and reinforces ethical writing practices.
5. Grammarly Delivery Feature
Grammarly's delivery feature is designed to help you leave the right impression on your readers. This feature is closely tied to goal settings, which I will discuss shortly.
By setting specific tones and goals for the content, Grammarly can flag errors and provide suggestions if it detects that you're not adhering to the appropriate writing practices based on your settings.
6. Goal Setting: Tailoring Your Writing Style
The goal-setting function in Grammarly allows you to establish specific objectives for your editing or writing endeavors. Within the style editor, you have 4 settings:
Audience: Choose the intended audience for your writing, such as general, expert, or knowledgeable.
Formality: Determine the desired tone for your writing, whether it should be formal, neutral, or informal.
Domain: Specify the type of writing you're engaged in, be it business, academic, general, email, creative, or casual.
Intent: Clarify the purpose of your content, whether it aims to describe, convince, inform, or tell a story.
By configuring these goals, Grammarly tailors its suggestions to align with your intended style. For instance, if you choose an "informal" setting, Grammarly will provide alternative suggestions if your sentences appear too formal for your desired tone.
7. Third-Party Applications: Seamless Integration Across Devices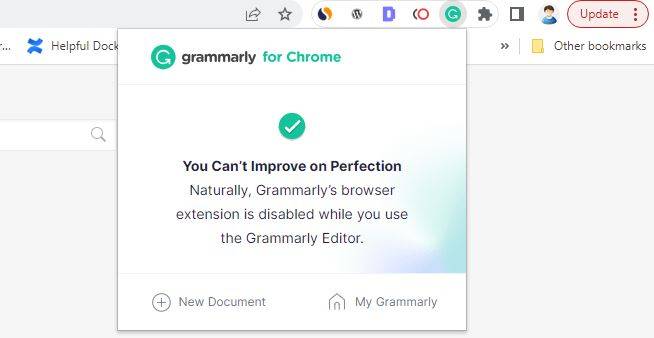 Grammarly differentiates itself with its availability across various platforms and devices. In addition to Chrome, Microsoft, and Safari compatibility, Grammarly offers official apps for iPhone, iPad, Mac, Android, and Chrome.
These apps provide convenient access to Grammarly's writing assistance wherever you go, ensuring a consistent and seamless writing experience across all your devices.
8. Settings For Multiple Languages: Catering to Regional Spelling Differences
Grammarly includes a handy feature that allows you to choose the English language variant you prefer within the settings. You can choose from options such as American, Canadian, British, and Australian English.
This feature proves particularly useful in avoiding spelling mistakes that vary based on the target country. For example, the word "categorize" is spelled as "categorise" in the UK.
By utilizing the language tool, Grammarly will flag such errors, helping you maintain consistency and accuracy in your writing.
Wordtune Features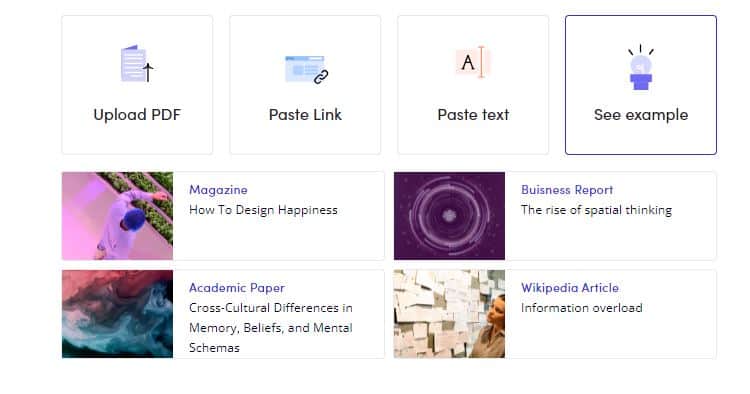 Wordtune offers a plethora of features to its users. While some are available to everyone, certain advanced options are exclusively reserved for premium subscribers.
1. Shorten Sentences: Trim The Fluff
For premium users, Wordtune offers the valuable option to shorten sentences. By selecting this feature, you'll receive concise alternatives to a given sentence.
It's a helpful tool for streamlining your writing, eliminating unnecessary words and fluff that might hinder clarity.
Simply highlight the sentence, click the "shorten" option, and explore a list of alternatives that pack the same meaning in a more succinct manner.
2. Wordtune Rewrite: Clarity And Variety
One of Wordtune's standout features is its ability to effortlessly rewrite sentences, providing users with alternative options.
Simply highlight a line and click on the Wordtune icon, and the AI software will present you with a range of fresh possibilities.
Wordtune offers alternative options beneath the original one. This feature empowers you to explore different phrasings and find the perfect fit for your writing.
3. Tone Checker
This feature is exclusively available to premium plan subscribers, enables you to maintain a consistent casual or formal tone in your writing.
When editing existing content or utilizing the style editor, premium users can effortlessly switch to a casual tone by selecting the "casual" button. In response, the software provides alternative sentences suitable for a casual tone.
Similarly, the tone detection tool functions in the same manner for formal writing. By choosing the "formal" button, users gain access to formal alternatives, ensuring an appropriate tone throughout their work.
4. Grammar Checker
Wordtune's grammar checker adequately fulfills its purpose by flagging basic grammar and spelling errors.
However, when it comes to spotting complex grammatical errors and passive writing, it may not be as refined as Grammarly. Nevertheless, for most users, Wordtune's grammar corrections should suffice, delivering satisfactory results.
5. Translation: Bridging Language Barriers
Although not prominently featured on the homepage, Wordtune offers a useful translation tool. While limited to English results, this tool allows you to add text in different languages to the editor, which the software will then translate to English.
For instance, if you have an article written in Arabic, simply paste it into the editor, and Wordtune will automatically provide you with English alternatives for the content.
The tool supports languages such as Spanish, Mandarin, Arabic, Korean, Hindi, Russian, and Hebrew, facilitating multilingual communication and content creation.
6. Smart Synonyms: Elevating Your Vocabulary
When it comes to finding the right word, Wordtune uses its smart synonyms feature. By simply highlighting a single word within your text, the software provides a range of alternative suggestions and synonyms.
Acting as an instant thesaurus, this handy feature helps you enhance your vocabulary and choose the most fitting word for your desired context. Just click on the alternate word you prefer, and it seamlessly replaces the highlighted word in your text.
7. Expanding Sentences: Adding Depth And Detail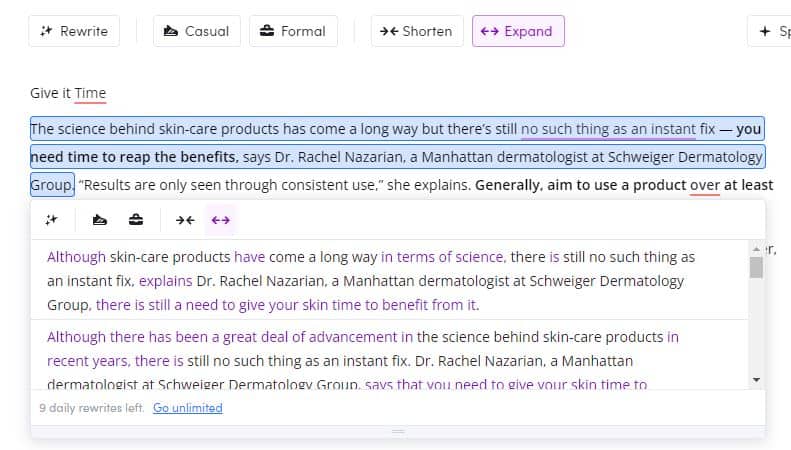 On the other end of the spectrum, Wordtune also offers an option to expand sentences. This premium feature enables you to lengthen your sentences when you need to meet a specific word count or add more substance to your writing.
By highlighting a sentence and utilizing this feature, you'll receive thoughtful suggestions that not only add words but also maintain proper sentence structure and coherence.
Grammarly vs Wordtune: Reliability And Accuracy
It is essential to remember that neither of these tools, including any others on the market, can replace the skills of a proficient writer. However, both Grammarly and Wordtune are valuable for identifying errors and providing suggestions.
It is advisable to review and double-check the recommendations they offer, as occasionally they may propose suggestions that do not make sense.
Overall, both tools are relatively accurate, with Grammarly proving slightly more accurate than Wordtune based on a comparison. Grammarly's availability of country-specific English language settings may contribute to its higher accuracy.
Grammarly vs Wordtune: Ease Of Use
When comparing Grammarly and Wordtune, Grammarly offers more features and greater accuracy in error detection. However, in terms of ease of use, Wordtune surpasses Grammarly.
While Grammarly is not difficult to use, its wider range of features may make it slightly more complex. On the other hand, Wordtune is straightforward and user-friendly. Both tools are relatively easy to use, but Wordtune excels in this category.
Who Is Grammarly For?
Grammarly is best suited for bloggers, freelance writers, journalists, and individuals who aim to produce content without any errors.
While the free plan is decent, the premium plan offers additional features, including the great plagiarism detection tool.
Additionally, Grammarly surpasses Wordtune in terms of third-party app availability and compatibility across multiple platforms.
Who Is Wordtune For?
Wordtune is a suitable tool for anyone seeking a straightforward, user-friendly, and efficient solution to improve their content. It is particularly beneficial for individuals looking to rewrite or update their content in a clear and understandable manner.
If you desire a simple approach to extend, shorten, or modify sentences, Wordtune offers a viable solution. It provides a free version for basic usage and a premium option with additional features.
Wordtune vs Grammarly Pricing
Both Grammarly and Wordtune offer free plans, but for additional features and unlimited usage, premium plans need to be purchased.
Here's a breakdown of the pricing:
Wordtune Pricing: How Much Is Wordtune?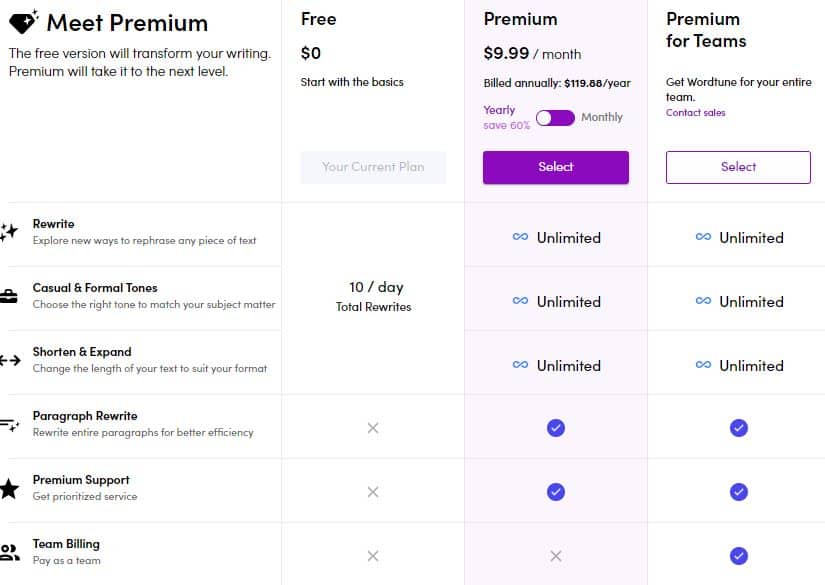 The software offers two premium license options.
The monthly plan costs $24.99 a month, while the yearly plan requires an upfront payment of $119.88, equivalent to $9.99 per month.
Opting for the yearly plan offers a 60% cost saving compared to monthly payments.
Grammarly Pricing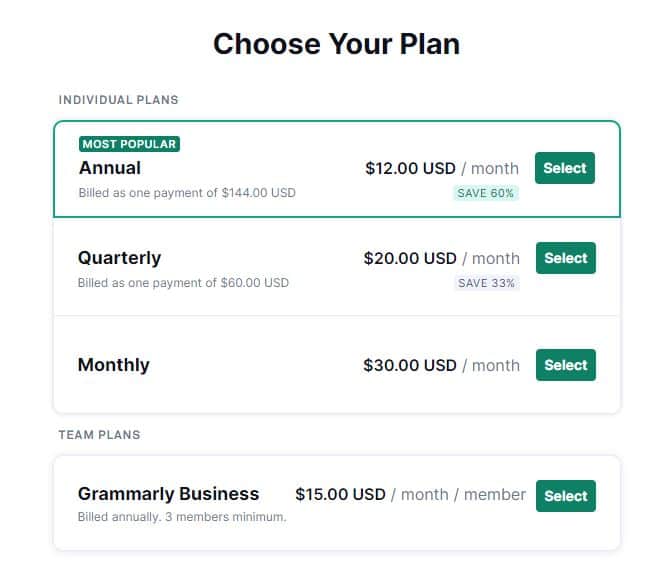 The tool provides 3 different payment options for individual premium plans.
The monthly plan costs $30, the quarterly plan costs $60 (billed every 3 months at $20 per month), and the annual plan costs $144 (equivalent to $12 per month). The yearly plan provides a 60% cost saving compared to monthly payments.
Grammarly also offers a separate Grammarly Business plan for workplace use, which costs $15 a month for every 3 members, billed yearly at $180 for 3 members.
Grammarly vs Wordtune: Customer Support
Both Grammarly and Wordtune offer support services to assist users with their writing needs.
Wordtune provides support articles addressing common questions and offers email support accessible within the member's area. Premium members receive priority support, ensuring a prompt and personalized response.
Grammarly also maintains a knowledge base containing support resources for various inquiries. Similar to Wordtune, Grammarly offers email support within your account.
Notably, Grammarly provides the same level of service for everyone, meaning that even free users receive equal priority in terms of support assistance.
Grammarly Pros And Cons
Pros Of Grammarly
Effective grammar detection
Provides a plagiarism detection tool
Offers goal-setting functionality
Different English language options available
Autosaving feature in the Grammarly editor
User-friendly interface with a distraction-free writing environment
Cons Of Grammarly
Mobile app could be improved
Free version lacks advanced features
Wordtune Pros And Cons
Pros Of Wordtune
Lower cost compared to Grammarly
User-friendly interface
Effective for editing and proofreading purposes
Useful free plan available
Includes built-in translation feature
What Are The Limitations Of Wordtune?
Limited to a single English language version
No dedicated mobile apps
Only compatible with Google Chrome
Lacks plagiarism detection capability
Grammarly Alternative | Wordtune Alternative
There are alternative tools available for both Grammarly and Wordtune but determining which one is better is subjective.
Some popular alternatives to consider when choosing the best writing assistant software include:
Google Docs
Microsoft Word
FAQs – Wordtune vs Grammarly
1. Is Wordtune owned by Grammarly?
No, Wordtune is not owned by Grammarly. Wordtune is a separate product and company.
2. Is it worth it to buy Wordtune?
Wordtune offers advanced writing assistance and can be valuable for improving writing efficiency and quality. Consider evaluating its features, pricing, and user reviews to determine if it aligns with your specific requirements.
3. Can You Use Wordtune And Grammarly Together?
Yes, you can use Wordtune and Grammarly simultaneously.
As a Grammarly premium user, you can use Wordtune as a backup or for quick editing and updating tasks.
Both tools can be enabled or disabled according to your needs. You have the flexibility to turn off Grammarly for a specific writing session and utilize Wordtune to modify sentences.
While it is not necessary to utilize both tools, they can be combined to refine your content.
4. Is there anything better than Wordtune editor?
There are several Wordtune alternatives that offer similar editing capabilities. It's worth exploring other writing editors like Grammarly, ProWritingAid, Hemingway Editor, and Ginger to find the one that best suits your needs and preferences.
5. Which is better QuillBot or Wordtune?
The choice between Wordtune vs QuillBot depends on your specific requirements and preferences.
Both tools offer AI-powered writing assistance, but they have differences in features, pricing, and overall performance. There are also various QuillBot alternatives worth checking out.
Conclusion: Wordtune vs Grammarly
Both Grammarly and Wordtune are valuable tools for enhancing writing skills and avoiding grammar, spelling, and other writing errors.
While they cannot surpass human writers, they serve as essential aids. They function as paraphrasing tools, editing tools, and article rewriting companions, among other capabilities.
Once you start using them, it becomes challenging to imagine writing without them. Both tools utilize AI writing software and provide free plans, but for more advanced features and regular usage, exploring the premium options is recommended.
In the comparison between Wordtune and Grammarly, Grammarly emerges as the superior writing assistant.
While both tools offer similar integrations with platforms like Google Docs, Grammarly stands out with its wider range of features, higher accuracy, and extensive app support. It serves as an all-in-one copywriting tool that enhances writing style and skills.
Additionally, Grammarly provides a plagiarism detection tool and great support for premium users. While Wordtune can still be a valuable choice, overall, Grammarly is the recommended option.