Are you tired of the hassle that comes with traditional buying and selling methods? Look no further! Mercari, an online marketplace that has become popular among savvy shoppers, might just be the perfect solution you've been searching for. In this comprehensive Mercari review, we'll delve into the world of buying and selling on this platform, helping you determine whether it's the ideal choice to fulfill your needs.
Mercari provides an incredibly convenient online marketplace where you can effortlessly sell your pre-used clothes, electronics, furniture, and a whole range of other items.
But is it worth your time and effort? Let's find out!
What Is Mercari And Is It Safe?
Mercari is a popular online marketplace app that connects individuals looking to buy or sell new, used, or vintage items in a secure environment. Founded in 2013 by the visionary Shintaro Yamada, Mercari's mission is to provide people all around the world with enhanced buying, selling, and trading opportunities.
To ensure safety and security for all users, Mercari has implemented a robust payment deposit system and leverages cutting-edge AI-based fraud monitoring. Their commitment to safety and innovation guarantees a sustainable platform where everyone can explore their full potential.
Is Mercari A Legitimate Company?
Rest assured, Mercari is a legitimate site for buying and selling items. However, it's essential to exercise caution when engaging with unknown third parties.
Mercari uses a state-of-the-art fraud monitoring system powered by AI algorithms, which detects any suspicious activity.
Moreover, Mercari implements a secure payment deposit system to ensure prompt and reliable transactions. They also offer buyer protection guarantees, such as refunds in the event that an item doesn't match its description.
To make the most of your Mercari experience, take a moment to familiarize yourself with their terms and conditions. Being well-informed about your rights and responsibilities while using Mercari will help ensure a positive and secure buying and selling journey.
Exploring Mercari: How Does It Work?
Using the Mercari app is quite straightforward! Simply visit the Mercari website or download the user-friendly app from your preferred app store. Once you're all set, create a Mercari account, and you're ready to embark on your buying or selling journey.
To list an item for sale, just snap a photo of it, provide a description, set your asking price, and post it. Potential buyers can then make offers on your item, giving you the flexibility to negotiate and find the best deal.
When someone purchases your item, they'll make the payment directly through Mercari using a debit or credit card, Apple Pay, or PayPal. Once the sale is complete, you can conveniently print a shipping label and send the item off to its new home.
As soon as the buyer receives and approves the product, Mercari will release your hard-earned payment into your account. It's that simple!
On the other hand, if you're in the mood to shop, Mercari offers a seamless experience. Search for specific products or browse through various categories until you find something that catches your eye.
And the best part? You can complete your purchase directly within the app, without any hassle.
Mercari For Sellers: Turn Your Clutter Into Cash
If you're looking to declutter and make some extra cash, Mercari is the perfect platform for you. This user-friendly app allows you to effortlessly list and sell a wide array of items without any listing fees. Whether it's clothing, electronics, furniture, or jewelry, Mercari has various options.
To ensure a successful selling experience, it's crucial to familiarize yourself with the ins and outs of the platform. Let's explore some valuable tips for selling on Mercari:
1. Fair Pricing: Strike The Right Balance
Setting reasonable prices is essential to attract customers. While aiming for profit is important, pricing an item too high can deter potential buyers. Find the sweet spot where your pricing is fair and attractive.
2. Descriptions Are Key: Provide Details
When creating your listings, remember to provide detailed descriptions and accurate product photos. A comprehensive description helps potential buyers understand precisely what they're getting, increasing the likelihood of making a sale.
3. Protect With Packaging: Ship Securely
Ensure that you pack items securely to protect them during transit. This step ensures that the products reach the buyers in pristine condition, leading to satisfied customers and positive reviews.
4. Prompt Responses Build Trust
If a buyer has any questions about your listed items, respond to them promptly. By doing so, you establish trust and demonstrate your commitment to excellent customer service.
5. Timely Delivery: Fulfilling Your Promise
Track customer orders diligently and ensure that they arrive promptly. Prompt delivery enhances customer satisfaction and helps build strong relationships with buyers.
Following these tips will enhance your selling experience on Mercari, setting you up for success in transforming your unwanted items into profit.
Mercari Review For Buyers
For bargain hunters and those seeking unique products, Mercari is a great choice. With its extensive range of categories encompassing clothing, home decor, electronics, and much more, there's something for everyone.
What sets Mercari apart is its flexibility in allowing buyers to make offers on items. If the seller is open to negotiation, you can find yourself striking a fantastic deal, particularly when searching for collectible or vintage items.
If you're on the lookout for designer items, keep an eye out for the authentication badge in the listings. Mercari Authenticate offers sellers the opportunity to submit images of their products, ensuring that a certified third party verifies their authenticity.
Mercari supports a variety of payment methods, including debit cards, credit cards, Apple Pay, and PayPal. You can shop internationally without the hassle of foreign currencies or exchange rates. Plus, Mercari's buyer protection guarantees have got you covered if an item doesn't arrive as described.
Mercari comes across as a safe and reliable online shopping destination. With its user-friendly app, unwavering buyer protection guarantees, and secure payment options, you can shop with confidence, knowing that your experience will be nothing short of exceptional.
Mercari Shopping Tips And Tricks
Mercari, renowned for its vast selection of items, ranging from fashion accessories to home appliances, offers buyers like you an incredible marketplace to explore. To make the most out of your Mercari shopping journey, here are some invaluable tips and tricks for you to keep in mind:
1. Read Descriptions: Be Informed
Always take the time to thoroughly read the product descriptions and features before making a purchase. This step ensures that you have a clear understanding of what you're buying and helps you determine if it's the right fit for your needs.
2. Investigate The Seller – Trust Is Key
Before diving into any purchases on Mercari, take a moment to research the seller. Check their reviews, ratings, and returns policies to ensure they are trustworthy. This step will provide you with peace of mind and help you make an informed decision.
3. Don't Be Afraid To Make An Offer
Found something you love, but it's stretching your budget a bit too far? Mercari allows you to make offers to sellers. Take advantage of this feature by negotiating a price that suits both parties. If you have any questions, don't hesitate to ask before submitting your offer.
4. Stay Connected: Check Your Messages
If you've made an offer on an item, don't forget to regularly check your messages. This is where you'll receive notifications regarding the acceptance or rejection of your offer. It's crucial to stay engaged to avoid missing out on any opportunities.
5. Shipping: Know The Ins And Outs
To avoid any surprises, familiarize yourself with Mercari's shipping terms. Understanding delivery times and costs will help set your expectations and ensure a smoother transaction.
By following these tips and tricks, your shopping experience on Mercari is bound to be positive, rewarding, and filled with exciting finds.
Mercari Review Complaints
Currently, Mercari has a Trustpilot score of just 2.4 out of 5 stars, based on over 18,500 reviews. Unfortunately, recent reviews paint a predominantly negative picture.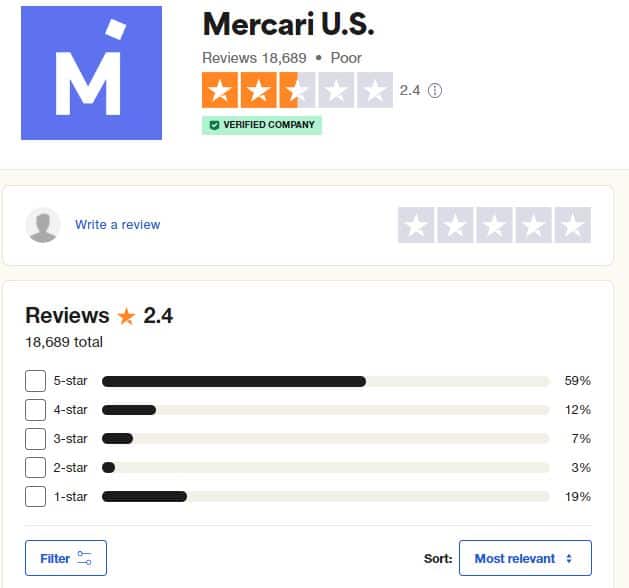 Many users have reported receiving damaged items and facing challenges in returning products or obtaining refunds from scammers. Others have expressed frustration with extended wait times for customer service responses and difficulties in account verification.
It's clear that Mercari has fallen short of its promise to provide a satisfactory experience for both buyers and sellers. Additionally, some reviewers have mentioned that Mercari's seller fees have increased in recent years, making the platform less appealing for selling.
To regain trust and improve its services, Mercari needs to address these issues promptly. Until significant steps are taken to rectify these concerns, it's advisable for buyers to exercise caution when engaging in transactions on the platform.
Exploring Alternatives To Mercari
If you're seeking alternative platforms for buying and selling items online, there are a number of Mercari alternatives that cater to various needs and preferences. Let's take a closer look at some of the most popular options:
1. Depop: Vintage And Creative Community
Depop is a global marketplace known for buying and selling streetwear, vintage, and unique items. It has gained significant popularity among the creative community.
Depop allows you to create a virtual store to showcase and sell your products, offering shop promotions, powerful analytics, and marketing tools to enhance your selling experience.
2. Poshmark: Fashion And Beauty Focus
Poshmark is a prominent online marketplace specializing in fashion and beauty items. With its user-friendly interface, anyone can quickly become a seller and start earning money.
The platform offers free listings, and competitive pricing options, and accepts payments through various methods like PayPal, Apple Pay, and Venmo.
Poshmark also provides shipping discounts, customer support services, and the unique feature of hosting virtual shopping parties. Learn more about this marketplace in this article: Is Poshmark Legit?
3. Grailed: Fashion And Streetwear Platform
Grailed is a personal style marketplace specializing in fashion and streetwear. Its online marketplace boasts an extensive selection of unique and high-end items, making it a go-to destination for those seeking specific pieces.
Grailed also fosters a community atmosphere, facilitating connections between like-minded shoppers.
The platform ensures secure transactions with buyer protection and authenticity checks. It's important to note that Grailed charges a 9% commission fee for sellers, along with relevant payment processing charges.
These are just a few examples of the many Mercari alternatives available, each offering its own unique features, strengths, and considerations.
Before making a decision, it's essential to conduct thorough research and comparisons to identify the platform that best suits your specific needs and preferences.
FAQs – Mercari.com Review
1. Is it safe to buy from Mercari?
Yes, it is generally safe to buy from Mercari as the platform takes measures to protect buyers, such as offering buyer protection and facilitating secure transactions.
2. Why is Mercari so cheap?
Mercari can offer lower prices compared to other platforms due to its marketplace model, where individuals sell their pre-owned or unused items directly to buyers, eliminating the need for intermediaries and reducing costs.
3. Is it better to sell on eBay or Mercari?
The choice between selling on eBay or Mercari depends on various factors, including the type of items you are selling, your target audience, and personal preferences. Both platforms have their own advantages and it's recommended to consider them before deciding which one suits your needs better.
4. Are items on Mercari authentic?
While Mercari strives to maintain a safe marketplace, it is still possible to come across inauthentic items. Buyers should exercise caution, carefully review item descriptions and photos, and consider seller ratings and reviews before making a purchase.
5. Is Mercari safe for credit card?
Mercari provides secure payment options, including credit card payments. However, it's important to ensure that you are using trusted and secure payment methods on the platform and to take necessary precautions to protect your personal and financial information.
Conclusion: Mercari Review
While Mercari can be a valuable platform for buying and selling items, it's crucial to be aware of the reported negative experiences shared by users.
If you find yourself dissatisfied with Mercari, remember that numerous alternative options exist that may better meet your expectations. Remember to exercise caution and carefully read platform rules and user reviews to ensure a positive experience for all parties involved.
With proper research and informed decision-making, you can embark on a successful buying and selling journey in the vast realm of online marketplaces. Good luck!