You've probably heard of Trip.com if you've spent some time online searching for flights or hotels. By providing cheap rates on hotel bookings, airline tickets, and other travel-related services, the company has established a strong reputation for itself. But is Trip.com legit for hotels?
Is Trip.com safe to use? And is the price really as good as it seems?
I'll review Trip.com and provide all those answers in this article. Continue reading if you want to learn more about Trip.com or if you're contemplating using it for your upcoming vacation.
Is Trip.com A Real Company? Where Is Trip.com Located?
Trip.com is an all-in-one travel services platform to assist you in planning and booking your ideal vacation. It's supported in 27 countries and 20 different languages. The business was established in 1999, and Singapore serves as its corporate headquarters.
Trip.com might be your first choice if you're looking for a place to stay while on vacation because it offers affordable rates on more than 1.4 million hotels in 200 countries and locations. Also, they provide flights connecting 5,000 destinations globally and over 2 million different routes!
Is Trip.com Reliable For Flights?
There are many websites available for booking trips. But it can be confusing to choose from so many different options. With this in mind, is Trip.com reliable?
In a nutshell, yes! Trip.com is owned by the Trip.com Group, a publicly traded company in China and one of the largest online travel agencies. The well-known travel websites, Ctrip and Skyscanner are owned by the Trip.com group as well.
Furthermore, Trip.com has been in operation for more than 20 years and has built a strong reputation for client satisfaction.
Is Trip.com Legit For Hotels?
Yes, Trip.com is a legitimate company and website. You can be sure that the business is trustworthy because it has been around for more than 20 years.
Booking flights and hotels is only one of the many travel-related services available on its secure platform. And speaking of internet security, Trip.com is a safe website that encrypts all of your personal and financial data using SSL.
How To Use Trip.com Effectively
There are many good deals on Trip.com, but there are a number of things you can do to ensure that you're making the most out of the website:
Make A Plan
You have a better chance of finding great prices the earlier you begin your trip planning. Before looking on Trip.com, try to get a sense of when you want to go on vacation and your spending limit.
Check Prices
Make sure you're getting the best rate. Once you've discovered a hotel or airline you're interested in, check the pricing on other websites.
Adjust Your Itinerary
Your chances of finding cheap rates will increase if you can be flexible with your vacation dates and your final destination.
Check Reviews
To have a general idea of what other travelers have had to say, check the reviews before making a flight or hotel reservation.
Download The Trip.com App
Trip.com also provides a useful mobile app. It makes travel arrangements easier. From your smartphone or tablet, you can use the app to look up hotels and flights, read reviews, compare prices, and more. Also, you may use the app to save your booking reference and get alerts when your itinerary changes or gets updated.
Enroll In Their Loyalty Program
Trip.com has a program called Trip Coins for its customers. Registering is free and you get access to discounts based on your travel preferences. By making reservations for hotels, travel, and activities on the website, you can also earn Trip Coins. Hence, if you frequently book hotels, you can receive further savings on your upcoming trip.
By paying attention to these points mentioned above, you can be sure you're receiving the best deals when making reservations with Trip.com
How Does Trip.com Work
Trip.com can assist you in finding the most affordable options, whether you're looking for hotels, travel, or activities. Here is a breakdown of the steps involved in using Trip.com to book your upcoming getaway:
Enter your location, departure or arrival date, the number of rooms and guests, the number of nights, and any related keyword(s) in the search field. Also, you can list your desired hotel features, like "pool" or "free breakfast"
When you click the "Search" button, a list of results will show up. The results can then be filtered based on cost, user reviews, or ratings
To find out more information about a flight or hotel you've found, click the "Details" button. You may learn more about prices, amenities, and customer reviews right there
Click the "Book Now" button if you're satisfied with the hotel or the flight and wish to make a reservation. Your contact and payment details can then be entered on the following page
Trip.com will send you a confirmation email with your booking number once your reservation is complete. When checking into your hotel or flight, you'll need your booking information, so be sure to keep this email or print it out
Trip.com Reviews | Trip.com User Experiences
Trip.com is a reputable travel website that is well worth it if you are looking for deals on your next trip. The business has a Trustpilot rating of 3.9 from over 40,000 reviews, even though they are not BBB-accredited. This is considered great by most standards.
It's important to note that the company's customer service representatives have replied to most of the negative reviews by providing additional assistance. This indicates that they are trying to improve their customer experience.
For its millions of users globally, Trip.com provides world-class 24/7 customer care services in English. They have additional centers in Seoul, Tokyo, and Edinburgh that help to provide the best vacation experience.
With 70% of reviews being 4 or 5 stars, most reviewers appear to be satisfied with their overall customer experience. Several people laud the website for its large selection of hotels and locations as well as its user-friendly layout. There are also many glowing reviews from users who have worked with their customer success team and had amazing results.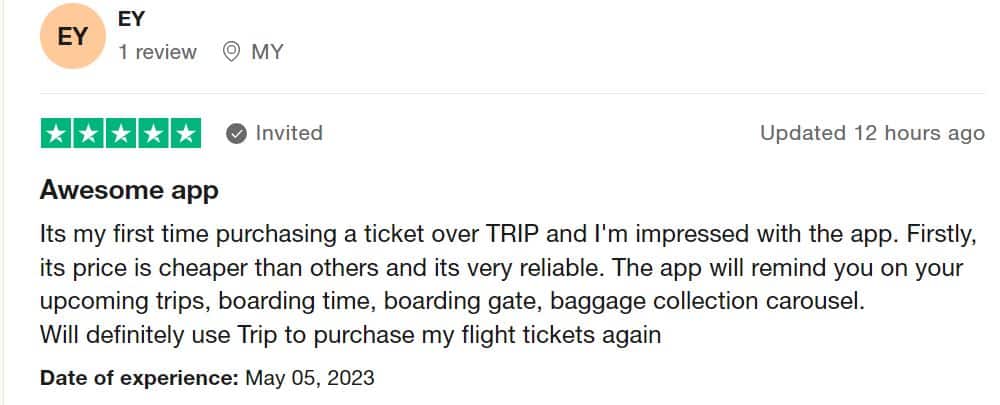 It's simple to access their customer care information. They have a phone number you can call if you prefer to speak to a live person over using the online chat feature.
Trip.com is therefore worth taking a look at if you're organizing your upcoming trip.
Trip.com Customer Reviews – Does Trip.com Have Fake Reviews?
There have been some accusations of fake reviews on Trip.com. However, note that this is an issue with many travel websites, not just Trip.com. Those who have never stayed at the hotel create fake reviews in an effort to either enhance or defame the reputation of the establishment.
However, Trip.com has taken steps to address this issue by only permitting reviews from verified users.
Travelers who submit ratings of their bookings to the Trip.com website can get TripCoins. It is an incentive for the traveler to provide a genuine and accurate review because these coins can be utilized to receive discounts on subsequent reservations.
Hence, Trip.com is definitely a good option if you're concerned about deceptive and manipulated hotel reviews.
Is Trip.com Trustworthy?
You may be wondering if Trip.com is the best option for booking a trip. After all, there are some negative reviews, and they are not listed on the Better Business Bureau. But keep in mind that customers will always complain about something. That's how it works with running a business.
What matters is how the company responds to concerns after a customer contacts the company's support. Also, Trip.com appears to take customer service very seriously. They have a committed team that looks into every complaint and attempts to find a solution.
Trip.com Complaints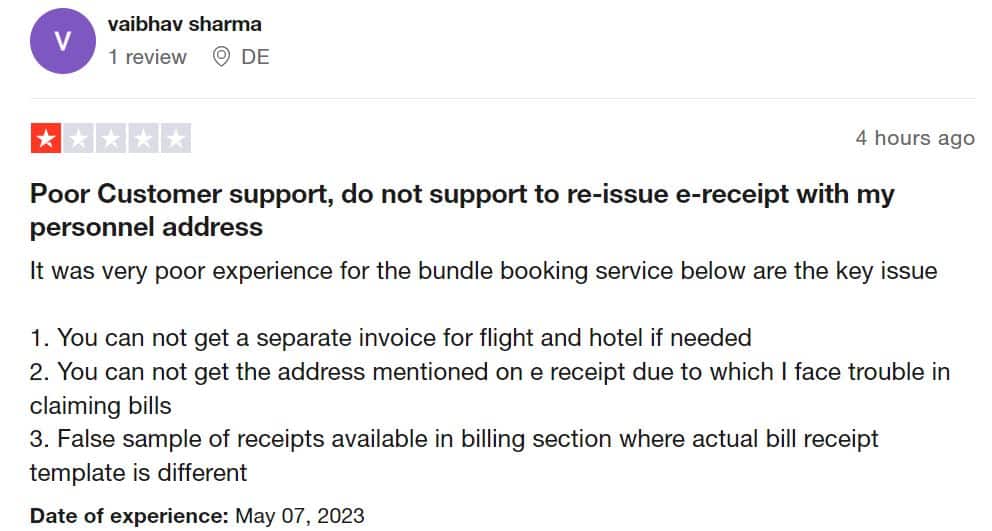 The bad experience of a hotel room not being as advertised is a typical complaint. Unfortunately, Trip.com is not the only travel website where you may experience this. Regardless, it appears that the support team responds to cases where this takes place.
Another issue seems to be sudden changes made to travelers' flight schedules, which can be annoying when you are planning a trip. Again, this could be the case with any travel agency since the airline, not Trip.com, is responsible for the change.
If a flight gets canceled, altered, or subject to other modifications, it would be a problem no matter how the traveler booked the trip – whether through a third party or directly with the airline.
Trip.com Hidden Fees
Some people have given unfavorable reviews regarding hidden fees. These, however, don't necessarily stem from Trip.com's charges and instead appear to be related to things like their credit company's international processing fees.
Finally, some customers have expressed dissatisfaction in their reviews over being charged a fee for canceling a flight they booked by mistake for the wrong date or location.
Trip.com Tickets Not Issued
Confirm that your booking information is accurate before purchasing your airline ticket to avoid having to request a refund, as each airline has its own refund policy that is out of Trip.com's control.
You don't want to be in a position where you think that you have a round-trip flight booked when you actually haven't.
Sites Like Trip.com
There are a couple of options if you think that Trip.com is not the right travel website for you.
Expedia
Expedia is a popular choice if you're searching for a top-notch travel agency website besides Trip.com. You can quickly get discounts on hotels, airlines, attraction tickets, and rental cars with Expedia. Also, you can book activities and tour packages. This helps you make all your reservations in one place, which can save both time and money. Consider using Expedia if you are looking for a one-stop shop for travel bookings.
Booking.com
Another well-known travel website that provides a variety of hotels and locations is Booking.com. They also provide 24/7 customer service, a helpful app, and a user-friendly layout. Despite the fact that Booking.com is a well-known travel company, its Trustpilot rating is 1.3, with 68% of all reviews being one star.
Why Is Trip.com So Cheap?
People are looking to get the best value when making trip reservations. While there are various strategies to reduce travel expenses, using Trip.com is one of the easiest solutions. It is one of the top travel websites as it regularly provides low costs on airline, hotels, and other travel-related expenses.
But how are they able to do it? One of the reasons is due to their lower overhead expenses. They limit the hefty fees connected with conventional travel agents on the main street by selling straight to customers online.
Compared to other websites, you can often get better discounts on Trip.com because they can pass some of the fees they receive from airlines and hotels on to their clients as price savings.
Conclusion – Is Trip.com Legit?
So, is Trip.com legit? Yes, in my opinion. The business has been operating for more than 20 years and is well-established. Their Trustpilot rating is better than some of their competitors. Users are satisfied with their customer service, and the platform seems to always have good deals on airfare and hotels.
Trip.com is a reliable business and a great choice for making trip arrangements. That being said, to make sure you're receiving the best possible deal, it's recommended that you do some research before making your next booking.