Have you heard of selling digital downloads on Etsy? Creators from all around the world make several thousand dollars selling digital downloads on this reputable marketplace. Thus, if you're trying to find out how to sell digital downloads on Etsy, you've come to the right spot.
Digital products are quite popular, simple to create, and delivered easily to the buyer upon purchase. You just need to build the product and create the listing on Etsy to get started.
Let's look more closely at selling digital downloads on Etsy.
This article will also provide some useful niche ideas, cover frequently asked questions, and other helpful tips so that you can succeed with your business.
In A Hurry?
With Canva, you can begin creating a great collection of digital downloads for Etsy without any design experience. This tool is completely free! You could always sign up for the Pro later. For now, check the features and play around. Your consumers will appreciate it!
How Do Digital Downloads Work On Etsy?
Selling digital products on Etsy is lucrative and a rather passive way to generate income. You just need to create the product once, and then you can sell the item multiple times on your Etsy store.
You also don't need to be concerned about product fulfillment, storage, delivery, or returns.
Etsy is legitimate and a reliable marketplace with a hungry audience, that is active and eager-to-buy
You can do this with your own site but selling digital files on Etsy gives you access to the platform's large audience. Etsy has over 95 million active buyers and the number continues to rise.
Besides its large user base, Etsy makes it relatively simple for beginners to create a store and start selling digital products right away.
Etsy Digital Product Ideas – Types Of Etsy Digital Downloads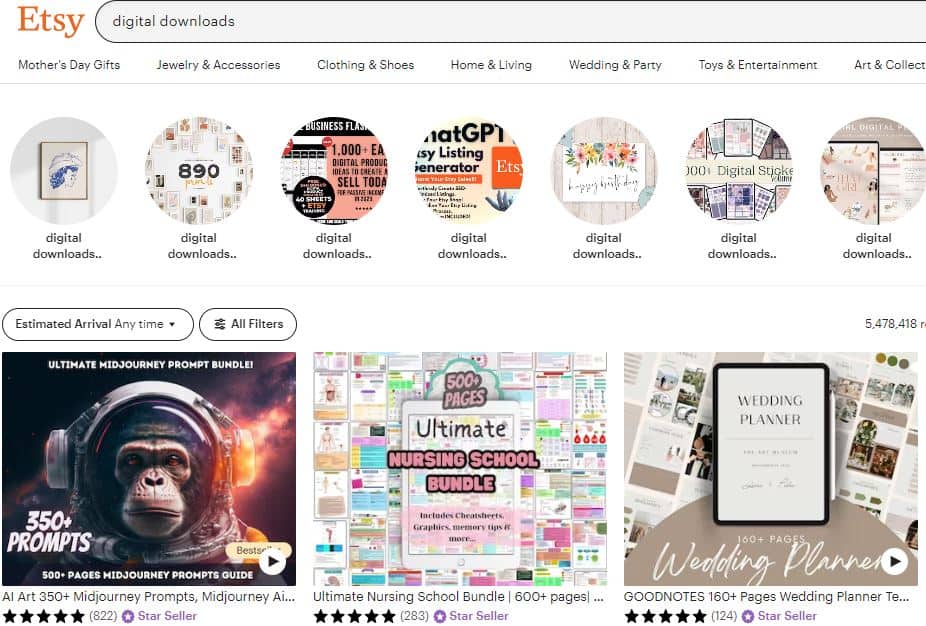 There are various options when it comes to selling digital downloads on Etsy. While many people associate "digital downloads" with selling printables, you can do many other things.
Examples of digital downloads on Etsy include:
Digital planners
Fonts
Custom themes for websites
Graphics
Logos
PNGs
Digital art
Spreadsheet templates
eBooks
Templates for social media
Stock photos
How To Create Digital Downloads To Sell On Etsy
Depending on the area you pick and the kind of product you plan to offer, there are numerous ways to create digital downloads to sell on Etsy.
Even if you aren't a designer, you can create digital downloads and sell them through Etsy. If there is a digital download concept that you would like to try on Etsy but don't have the expertise to develop yourself, pay someone to make it for you using a service like Fiverr or Upwork!
Here are some common ways to create digital files for Etsy sales.
How To Sell Digital Downloads On Etsy Using Canva
Canva is a free-to-use online graphic design tool that allows people to create amazing digital designs and art. It makes it easier to sell digital downloads on Etsy. Canva provides a large library of templates to use, ranging from images to planner templates, eBooks, and more.
Canva offers both a free and premium version. A Canva Pro account is required to access premium templates and certain file types (such as PNG).
To begin, go to the Canva site and select the type of product you are going to design on the homepage.
In this case, we'll take a look at the existing printable calendar templates on Canva. Enter "printable calendar" into the search box of the homepage.
This will bring up a list of options for a "printable calendar." If you choose one of the options, you'll be sent to a page having a number of modifiable templates. All you need to do to create digital calendars is import a template and then change the required element.
Click on the text to modify the font, move elements or words to different locations, and change the color of items. This is a free and easy way to make bespoke designs for selling on Etsy, and these templates show you how to set things.
Canva is a simple design platform made for people without any design background. This is an amazing tool to create your digital downloads for selling on Etsy.
Work With A Designer From A Freelancer Marketplace
Even if you do not have any creative skills, you can get amazing designs for selling on Etsy.
The tool Canva is fantastic, but it may not be for everyone. Perhaps, you could work with Adobe Illustrator or other online design applications, but both of them have a learning curve.
You can always outsource the work if you don't want to put in the time or effort to design it yourself. If you aren't a designer, you may want to consider outsourcing so that you can have a quality product.
Go to Upwork or Fiverr and look for a designer!
You can get a designer to produce planner templates, custom logo designs, stock graphics or photos, business cards, templates for social media, etc.
The designer can also work with Canva templates if you don't want to create them yourself.
How To Sell Digital Products On Etsy: Step By Step Process
At this point, you should be familiar with what types of digital products are possible on Etsy. You may even have some ideas in mind!
Here are the steps for getting started with Etsy digital downloads:
1. Pick A Niche
To get started, you must pick a niche. You've probably got some ideas already, so start with some product research on the platform.
Keep in mind that competition is not a bad thing.
Use Etsy's search bar to enter some of the ideas and see what comes up. This will provide you with some digital download ideas based on what customers are already looking for on the platform.
Select a product that you are interested in. Next, look at the listings and find out each shop's sales volume, reviews, and ratings.
You can also use keyword research software to make this process easier.
2. Create An Etsy Store
Configuring the Etsy shop is simple and straightforward. To begin, click on the "Sell on Etsy" link at the bottom of the home page.
Then, simply follow the steps to create your Etsy seller account!
You'll need to provide information such as the name of the Etsy store and fill out your payment details.
Make sure to complete the "About" section and capture everything people need to know about your Etsy profile.
The goal is to develop a brand for your items. A cohesive and consistent brand helps you nail that first impression, so pay attention to every aspect of your profile.
3. Add Your Listings
After your shop is up and running, you can begin creating product listings.
Besides charging fees for the sales, Etsy also charges $0.20 for each listing.
The seller fee is 5% of the transaction.
These fees may not be a big deal when you make some sales and earn passive income. It's just important to remember that at the beginning each listing will be charged $0.20.
Include keywords in the title of the product listing and write a detailed product description that contains your relevant keywords.
Etsy SEO can help you show up higher on the search results. So, selecting the right keywords for the product title and description is crucial.
When creating the product listing for your Etsy shop, pay special attention to the product photos.
Add enough photos so your customer knows what exactly they're buying and provide video walkthroughs if needed.
High-quality pictures and descriptions will help you increase your conversion rates on Etsy.
4. Promote Your Listings Of Etsy Digital Downloads
You may think that your effort is over once you have created your shop and listed the products. This could be the case if you are not in a rush to start selling right away!
After your listings are active, you need to invest the time and spread the word about them.

Consider the following ways to promote the items:
Run Etsy ads
Promote the products on Instagram
Create a Pinterest profile
Leverage TikTok, Facebook, YouTube, and other platforms
You can be more proactive and design a lead magnet to build an email list of potential buyers. This will be helpful in building a relationship and selling more items.
8 Tips For Selling Digital Products On Etsy
I wish I could say that selling digital items on Etsy is a passive income stream that doesn't need any work. But as with anything in life worth having, it requires time and patience.
Below are some things to keep in mind to be successful in selling digital downloads on Etsy:
1. Pick A Lucrative Niche For Selling Digital Files On Etsy
When you get started, put enough effort into doing market research. As discussed in the previous section on niche selection, search on Etsy to find out what's performing well in the niche.
You can do basic keyword research by typing your product into the search bar and seeing what comes up. If you are serious about your keyword research on Etsy, try premium software like Sale Samurai.
2. Use Keywords On The Title & Descriptions
Learning SEO is essential for selling digital products on Etsy organically.
Create a list of relevant keywords that you can use in the product titles and descriptions. This could be done using Etsy keyword research software or free keyword research methods.
If you are not well-versed in SEO, there are a number of resources available to show you how to get Etsy keywords. The quick and easy option is to identify relevant keywords for your Etsy items using the platform.
Enter your item or idea and take note of any other titles that auto-complete in the search field.
Alternatively, you can use tools such as Sale Samurai for finding the most profitable and popular keywords.
3. Consider Taking An Online Course For Etsy
If you would like to get started quickly but don't know anything about selling items on Etsy, I highly recommend taking a course on Udemy. Here are a few courses from successful Etsy businesses that we recommend.
4. Offer Great Customer Service
You need reviews if you need your products to surge in the search rankings on Etsy.
We are not just talking about the number of reviews; the quality of the reviews matters as well. Positive reviews could not only improve your rankings; they will also serve as social proof, which can be a powerful method for increasing purchases.
So, as a new shop, how can you obtain reviews? Here are some suggestions:
Put extra effort into fixing errors
Respond quickly to consumer inquiries
Send follow-up messages after a consumer completes a transaction and offer further assistance. In your follow-up communication, you can also request them to leave a review
Go above and beyond with your offer, such as including a relevant freebie as a bonus with the product download
5. Promote The Product
You should also promote your product outside of Etsy.
To market your Etsy digital downloads, leverage social media networks such as TikTok, Pinterest, Instagram, and Facebook.
Consider building an email list along with promoting on social media.
You can use one of the downloads (or a sample) as a lead magnet to get people to join your email list. Then build a relationship with them by sending them email newsletters and useful information. Then, promote your products to your subscribers by providing exclusive promo codes, discounts, holiday offers, and so on.
Etsy Digital Product Marketing – How To Market Digital Downloads On Etsy
Having a brand for your Etsy store makes you appear more genuine and can help you generate more conversions by drawing visitors from different sources.
Below are some suggestions for promoting your Etsy digital downloads.
Build a niche website centered around your particular niche. To create brand awareness and generate more sales, publish SEO-optimized content about your digital downloads with links from the site pointing to your Etsy store
Create an account on TikTok for your niche. To boost traffic to your Etsy business, create product walkthroughs and niche-relevant videos
Create a branded page on Facebook for your Etsy digital downloads and post your products there. Provide helpful content in addition to sharing your products from your Etsy shop to engage with the audience and gain more followers. For instance, if you have set up a website, share the blog content here as well
Create a branded account on Instagram. Upload pictures of the Etsy digital downloads, positive customer feedback, and videos of your product in action
Create a Business Account on Pinterest to promote your product listings. The Pinterest account is also useful for promoting your blog that talks about your Etsy items. You can see how all of these can help you become omnipresent
Grow your email list through your website and social media channels. You can use the email list to encourage repeated orders by providing subscriber-only promo codes, notifying interested customers and leads about new products, etc. You don't even need to come up with a different lead magnet; simply provide a free copy of one of the digital items
Promoting your products on social media and other channels may not be passive, but it is also optional.
You don't need to market everywhere. But you will have better chances of getting more sales, which will benefit your store (and the search rankings on Etsy) over the long haul.
Building a niche site related to your Etsy products can help improve brand awareness, increase product sales, and grow your revenue.
6. Use Ads To Get More Traffic
Using Etsy advertisements to promote your products is optional, however, it is a key step in scaling your business and increasing the sales volume.
I wouldn't suggest delving into Etsy ads to sell your digital downloads on Etsy without first understanding how to operate your shop profitably. Otherwise, you can invest a lot of money without getting enough returns.
If you would like to run Etsy ads profitably, consider investing in an Etsy course beforehand to learn the ropes.
7. Product Bundling
Selling digital files on Etsy provides several benefits over physical products. First and foremost, there is the obvious benefit of creating passive income. The same files can also be sent to others as digital downloads.
That being said if you want to increase the sales of digital downloads quickly, consider bundling related items.
To generate additional sales, sell the bundles at discounted rates compared to buying each item separately.
8. Reduce The Price Of The Products Or Offer A Special Discount
The majority of shoppers are bargain hunters. Put your items on sale if you are looking to increase your sales!
Run deals and promos on your Etsy store. Generate unique coupon codes for the subscribers in your email list and followers on social media.
Another strategy for encouraging repeat consumers is to offer unique promo codes for previous customers.
Is Selling Digital Downloads On Etsy Profitable?
The amount of money that can be made selling digital downloads on Etsy is determined by your product, pricing, and niche.
Digital products do well on the platform, but it takes work to make it happen. An online search shows a number of search results with people earning hundreds of thousands of dollars every month.
The more effort you put into finding a profitable idea and product niche, the more money you can make in the long term.
Rachel Jimenez makes an average of $9500 per month selling seasonal templates and printable planners. She is able to come up with new ideas for digital downloads by using Google Trends and Facebook groups.
Her success on Etsy is partly due to the effort she puts into listing the images and thinking like her customer.
You can do well on the platform by learning about Etsy SEO, selecting the best photos for the product listing, and crafting a great offer.
Best Selling Digital Downloads On Etsy – What Digital Downloads Sell Best On Etsy?
If you search "digital download" on Etsy, you'll find anything from fonts to logos, calendars, paintings, etc. Below are some of the best-selling digital downloads on Etsy:
Graphics
Coloring pages
Planners
Worksheets
Logos
Journals
Templates for social media
Business Cards
Spreadsheet Templates
eBooks
Premium WordPress themes
Checklists
Fonts
Lightroom Presets
Craft Patterns
Printables, of course, are very popular. Consider profitable Etsy digital download ideas like printable coloring sheets, printable artwork, and planner templates.
Conclusion – Should You Consider Selling Digital Downloads On Etsy?
Creating an Etsy shop with digital downloads can provide a passive income stream, but it will not be passive at first.
Is it worthwhile doing then?
That is entirely up to you! Digital product sales can be one of the best methods to make money online.
To tell you the truth, selling digital items requires some work initially. But once you've created your products, you just need to be able to promote them. Hence, if you're searching for a side hustle that takes little initial investment, learning how to offer digital files on Etsy is a no-brainer.
Good luck with selling digital downloads on Etsy!