Yes, guest posting on blogs is still relevant. This article will show you how to find blogs that accept guest posts so that you can advantage of this tried-and-true link-building technique.
Guest blogging must be at the top of your list if you're looking for targeted traffic and strong backlinks. Although Google has warned against large volumes of, low-quality guest posts, there's no question that it'll continue to be a link-building staple in the coming years.
Blogs Looking For Guest Posts
You should create a list of websites that allow guest posts before you begin working on a piece. While getting access to an exclusive guest post opportunity is possible, it's best to start with places that wholeheartedly welcome guest blogs.
Being Organized For Guest Posting On Blogs
You'll need to be organized because there are so many good options to choose from. Create a spreadsheet in Excel with the site's domain authority, guest posting guidelines, and some additional metrics including the number of followers on Twitter and comments.
1. Keywords For Google Search
There are keywords that can bring up several niche-relevant guest post sites.
Here are some examples:
"Keyword" + "guest blog"
"write for us" + "keyword"
"keyword" + "submit a guest post"
"keyword" + "author of this article"
"accepting guest posts" + "keyword"
intitle: guest post guidelines
2. Twitter
Enter a broad match search string at Twitter Explore.
You'll also come across a combination of blogs that have recently put out guest posts as well as writers that have had their work posted on other websites.
3. My Blog Guest
My Blog Guest (MBG) is a guest blogger's dream come true. Here you'll see webmasters constantly looking for guest bloggers to contribute to their sites. Yes, the platform has a number of low-PR sites. You will find some diamonds in the rough if you spend some time and look enough.
To begin, register for a free account. Then go to the section "Looking for a guest author."
Select a category applicable to your website.
It's then a matter of sorting through the results to see if the website meets the requirements. By going to the "Topic Blog" option above the page, you can easily find the site of someone who has posted.
Research The Blogs For Guest Posting
Based on what we have covered so far, you should have a list of websites that allow guest posts. You can narrow down the list further to focus your efforts on the blogs for guest posting that will provide you with the most traffic and SEO value.
Aside from obvious metrics such as relevancy and PR, there are some other factors to consider when deciding if a website is worth pursuing.
1. SimilarWeb
Would you like to know the amount of referral traffic your guest blog post can generate in the short term and over the long run? SimilarWeb will provide you with an idea of the traffic potential of your guest article.
Input the domain of the site from the guest posting list you've compiled into the analyzer.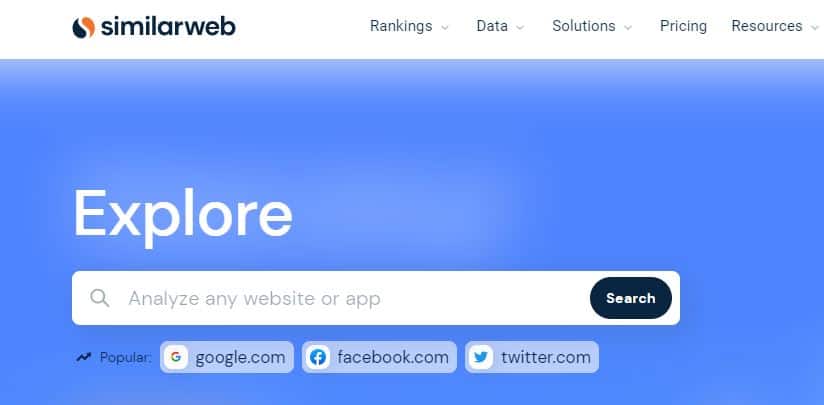 Although it may not be the most reliable predictor of a site's traffic, it does provide a general sense of its popularity.
Look at the "Traffic Sources" section in the sidebar. I've found this data to be quite accurate when I've used SimilarWeb for my own research.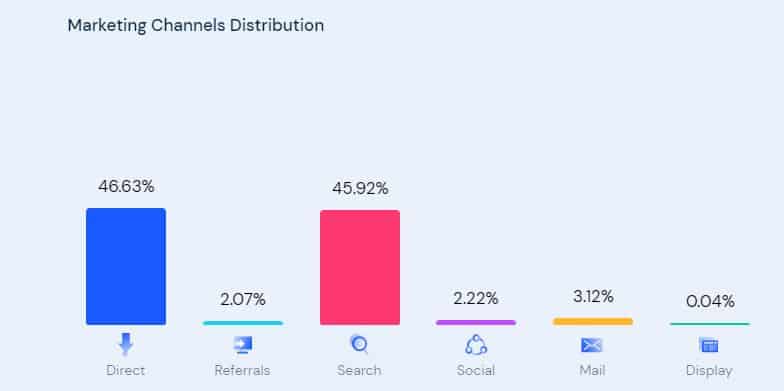 Direct traffic serves as a good indicator of the surge in traffic you'll see in the period following the publication of your guest article. Search shows you the site's potential for traffic from the search engine. Over time, search traffic can provide a steady flow of traffic to the posted article (and your site).
2. Blog Comments
There is a correlation between comments on blogs and referral sources of traffic. In addition, Google uses blog comments as a metric to decide whether a website is "real." It is a good idea to keep track of how many comments each blog post receives.
There isn't a particular number that you should strive for. However, if the website only receives 1 or 2 blog comments per article, you might want to reconsider.
Social signals help the blog article rank better in the search engines, in addition to the obvious traffic benefit (i.e., higher referral traffic to the website). More importantly, these signals can give your link more value. Although the quality of your guest article will ultimately determine its shareability, a site's social sharing history is a good indicator.
Find out how many Facebook Likes, Tweets, and other social shares the site's recent posts have received.

If they have a large number of social shares, yours is likely to get a lot of them as well.
4. Engagement On Twitter
Another method to assess the SEO potential and traffic of a guest post is to look at the blog's Twitter followers and reach. The number of followers can be found on their profile on Twitter.
While this will show you an indication of the site's potential, you may also use FollowerWonk to see how popular they are. The tool analyzes the followers on various accounts. The higher a person's "Social Authority", the more powerful the people that follow them.
Enter some keywords based on the person's bio into the FollowerWonk bio search (not the username).
You'll also notice the Social Authority.
Stick to websites having Social Authority scores of 20 or higher.