I spent some time researching the top calendar plugin in WordPress. So, no matter what your needs are, you can use this guide to find the right one for you.
The most widely used content management system is WordPress. There's no denying it.
If you have a WordPress account, you must be aware of the vast number of plugins available. There are tens of thousands, if not hundreds of thousands, of them. How can you find out the best when there are too many to choose from?
If you are here, you are probably looking to have a calendar on your site. For certain businesses, being able to quickly add dates and times is important.
Not all calendar plugins are created equal. Some of you will need calendar features that are more advanced than others.
To keep track of activities, you just need a basic calendar. For organizing meetings, bookings, and integrating with eCommerce websites, you might need a more advanced calendar.
7 Top Calendar Plugins In WordPress
1. Simple Calendar – Google Calendar Plugin
The Simple Calendar plugin in WordPress is as straightforward as it can be. It made it to the list because it's so easy to use, without having any prior technical experience.
Although the plugin has fewer features than other calendars, too many functionalities can add needless complexity. This Google calendar plugin is ideal for those who don't need all of the bells and whistles.
After installing the plugin, you should have the ability to view the events from a Google Calendar. This eliminates the need to manually add the events in WordPress.
Tags allow you to customize the events without knowing how to code.
It's simple to integrate other tools with this plugin to convert your events calendar into a newsletter-friendly format. This feature helps you to send the calendar to your email list without having them return to your website.
This WordPress plugin, like most others, allows you to display calendars in a list or grid format. Depending on where your site users are located, the advanced settings can change for time zones, as well as adjust time and date formats.
This plugin is great for someone who doesn't need a lot of advanced options in their WordPress calendar.
The Events Calendar, as its name suggests, is suitable for any website that manages events. This plugin can be used in a variety of ways.
It's ideal for artists who are looking to display their upcoming concerts. It is also useful for owners of venues who want to showcase upcoming events. This plugin is ideal for anyone who owns a restaurant, nonprofit, or charitable organization.
The events calendar will help you if you're an author who is traveling to speak at any conferences, or for promoting a book. The possibilities are virtually infinite, as you can see from these examples.
You can sort the calendar by month or day, in addition to being able to organize it by a list of activities.
The plugin includes caching and a debug mode, and the microformats are helpful in improving your SEO. It also integrates with Google Calendar, Google Maps, and iCal. As a result, you can export the events to different platforms.
Users that are viewing the calendar can also search for specific events. They won't need to scroll through to get what they're looking for.
Regardless of the device with which the calendar is viewed, the design is totally responsive. As a result, your visitors will have a great user experience if they are using desktops, tablets, or smartphones. This is critical because making the design mobile-friendly will have a positive impact on the revenue.
The main reason for the popularity of The Events Calendar is that it is simple to use. In just a few minutes you should be able to set up and navigate through it.
This plugin is free to install, but it also has a few premium options. The paid options are quite inexpensive:
Personal – $89/year
Enterprise – $149/year
Agency – $299/year
The EventON calendar WordPress plugin, as you would expect, is designed to help you manage events.
The calendar's design is what sets it apart compared to other alternatives. This will be a great option for those who are looking for a sleek and aesthetically appealing calendar that suits their themes and pages.
This plugin has many interesting features. Users can easily check for events and navigate through each month.
It can easily manage events that span over several days, months, or even a year. You may also use the plugin to promote featured events by highlighting them further.
There is a title, a time, a date, an address, and a photo for each event. You may also provide an event description and an additional picture of the venue.
People can also obtain directions to get to the venue directly from your website's event listing. All they have to do is enter their location into the Google Maps app that is built into the screen.
With Woocommerce support, EventON allows users to purchase tickets to the events. However, you will have to pay an additional fee for that feature.
For managing events on your website, EventON is by far the best calendar plugin in WordPress. Although it doesn't come free, a demo is available if you are interested. All the paid features can be purchased individually, allowing you to tailor the plugin to your specific requirements.
4. Booking Calendar
One of the earlier booking systems created for WordPress was the Booking Calendar. It was first released in 2009. It has been deployed on over a million WordPress websites in the last decade.
This plugin has seen a lot of updates and improvements, which has helped it maintain its place as one of the best calendar plugins in WordPress.
This plugin allows visitors to check the availability of an item on your website, such as a service, an apartment, or a hotel, and book it straight from the calendar.
The following is the way it works: Assume you run a carpet cleaning service. It's simple to put up a calendar on your WordPress website instead of taking appointments over the phone.
Visitors to the website may book a cleaning by selecting a date and time and filling out form details. This is more convenient than having them try to reach each other over the phone to find potential dates.
Personally, I'd rather make a reservation online. If I have to pick up the phone, I'm much less likely to complete the reservation.
As can be seen, this plugin's features can be used on a wide range of businesses and websites. The admin can easily access, manage, and configure all the bookings from the backend.
To prevent double bookings, you can use the Booking Calendar to set limits. When your limits have been reached, times and dates will become automatically inaccessible. This plugin allows you to plan out a whole year ahead of time.
You may also accept or decline bookings using the administrative features. You can receive notifications by email if anything new is added to the calendar. This way, you won't need to keep manually reviewing WordPress to find out if something has changed, and you'll be able to prepare your schedule accordingly.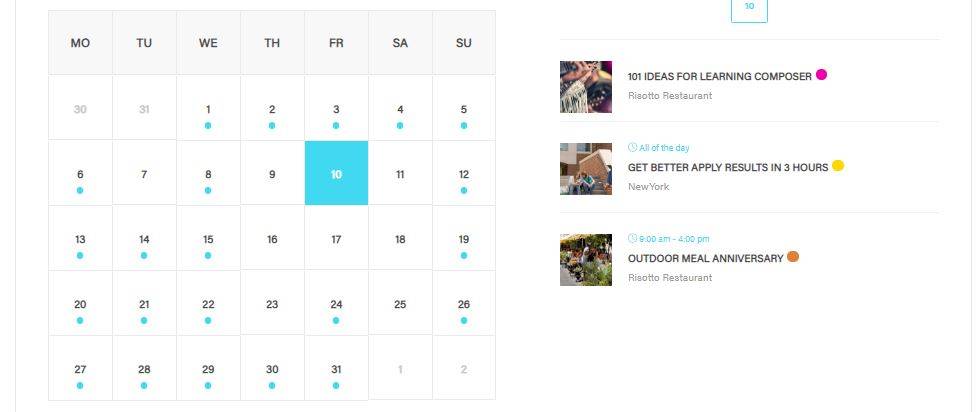 Modern Events Calendar is another calendar plugin in WordPress to consider. This option works well for event management sites. I wouldn't restrict the plugin to just those types of sites, but it's useful to understand the intent behind the tool's design.
A variety of customizable configurations and features are available, along with a pleasant user experience in the backend.
6. My Calendar
If you want to add multiple calendars to your WordPress site or if you run multiple websites that have to show the same calendar, the My Calendar plugin in WordPress is probably the best choice.
My Calendar supports multiple websites. Therefore, you are able to insert calendars to a group of websites managed from one WordPress installation. As a result, by retrieving events from a remote database, you can effectively share them across the network.
My Calendar has a mini-view, which is perfect for a condensed display on your website, unlike other plugins we've seen so far.
You can have an event automatically shared on Twitter, receive email alerts when a new event is planned, and easily manage and schedule recurring events.
You'll also have the choice of creating custom calendars. This plugin is quite versatile when it comes to creating calendar templates for your WordPress website whether you're a designer or developer.
7. All-In-One Event Calendar
One of my favorite WordPress plugins is All-in-One Event Calendar. This is because it is quite easy to configure the event page within WordPress.
Simply enter the form details, add the times and dates, and you're ready to go.
Settings are available for venue information, contact details, and buying tickets. Your events are optimized automatically for SEO by the plugin. You can also integrate Google Maps, saving an extra step for people when they need directions. This is something they are able to do right on your website.
Other platforms which All-in-One Event Calendar can be synced with include:
iCalendar
Google Calendar
Microsoft Outlook
Visitors to the site can display the calendar by day, week, month, or poster board, and the events can be easily filtered. The color-coding function for categorizing events is particularly useful.
Let's presume you're the owner of a bar. You are able to assign colors to different items, such as happy hour, trivia, or karaoke to help people find what they're looking for. (Karaoke is a definite no for me, but the happy hour and trivia are a resounding yes.)
All-in-One Event Calendar's basic version is available for free. The pro plan costs $9/month, with more advanced plans at $29/month and $99/month. However, I believe that most websites will be able to meet their needs with the basic version or with the pro plan.
Final Thoughts
That is everything there is to it. You don't need to have a complex calendar plugin in WordPress.
The top seven calendar plugins in WordPress are listed below:
Simple Calendar – Google Calendar Plugin
Booking Calendar
My Calendar
All-In-One Event Calendar
There are several other WordPress calendar plugins, but these are the best in my opinion.
Using this guide, you can figure out which plugin is best for your website. Not all of these plugins have the same features and options. As a result, you'll want to make sure you find one that meets your requirements.