If you are looking at setting up Google Voice and wondering how to get a phone number for Google Voice, you have come to the right place.
One of the best VoIP phone services for businesses is Google Voice. It is a great option for those who currently use and enjoy Google products. It's also a great option for combining personal and professional calling features.
If you share that sentiment, Google Voice is a great low-cost VoIP alternative. For more information regarding how it should be used, who it's best suited for, the needed infrastructure, functionalities, and the way to get started – continue reading.
How To Use Google Voice
Voice over Internet Protocol (VoIP) supports all the aforementioned functions. With the help of this technology, you can place calls without the phone line using a broadband internet connection.
When you call someone using your Google number, your voice is converted into a signal that is sent over the internet digitally. You can place calls using a computer directly from a VoIP service like Google Voice.
Phone calls made using Google Voice require only an internet connection.
Prerequisites For Google Voice Set Up
A working Google account and a phone number (landline or mobile) from the United States or Canada are the items needed to set up Google Voice. Google utilizes the phone number for forwarding and to confirm your identification.
Getting Started With Google Voice
Setting up Google Voice is a quick and simple process.
1. Log Into Google
You can log into your Google account by selecting the menu in the top-right corner of the Google Voice site.
You will be sent immediately to the next step if you are already logged into your account on the browser.
2. Create A Google Voice Number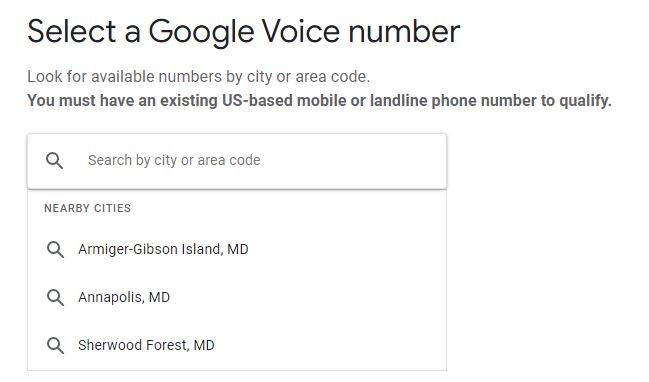 As soon as you're signed in, you can select a local phone number for Google Voice.
To find a Google Voice number that is available, perform a search using your area code or city name. You might try a different location nearby if you are unable to find numbers in your region.
This can also be used to get a VOIP number for a location other than your home. This allows you to use a local area code for your target audience, clientele, or other callers.
Remember that in order to get a Google Voice number, you must already have a personal U.S. phone number.
3. Validate Current Phone Number – Activating Google Voice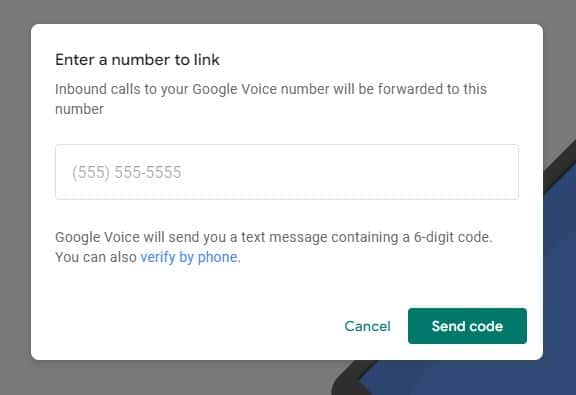 Click Select once you've figured out the virtual number you are interested in.
You will then be asked to confirm your current phone number. Click Verify and enter the phone number you would like Google to route your calls to (e.g., your cell phone number).
You can expect Google to text or call you with the code for verification after clicking Send Code. Once you have it, enter it in the relevant field, then click "Verify."
Verification might fail sometimes with the entered phone number.
This usually occurs when someone else is using the provided phone number to claim the Google Voice number.
A specific phone number can only be used once to obtain a number from Google Voice.
When you successfully set up your account, just use a new number to get verified and then swap it out for the initial forwarding number.
4. Complete Setting Up A Google Voice Number
Click Claim to verify that the phone number you selected is the one you want to receive calls at.
If necessary, you will be able to modify this number in the future.
After clicking Finish twice, you will be set up to manage Google Voice on your desktop device.
5. Get The App For Google Voice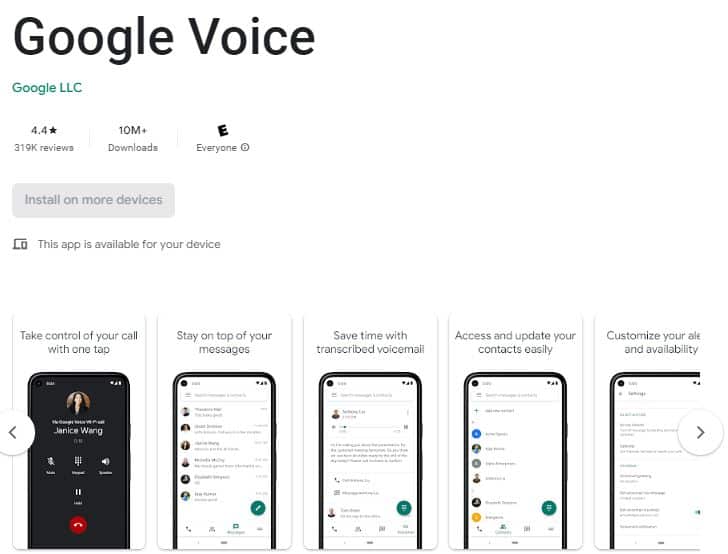 The next thing you need to do is set up Google Voice on your smartphone. Install the app from Google Play (Android) or the Apple Store (Google Voice App on iPhone).
A Google Account login is required when you start the app. Review and agree to the Terms and Conditions and Privacy Statement.
Cost Of Google Voice
Almost all calls made through Google Voice to the United States and Canada are free when made by someone from the US. If you only need to make and receive calls for personal usage, you can probably manage with just Google Voice.
However, you can take a look at Google's paid Workspace options if you are interested in more features. There are 4 plans, and each offers access to the complete range of cloud services (like Docs, Drive, etc.).
Rates For Google Voice Plans – Google Voice For Business Use

Features of the Business Starter plan, which costs $6/user/month:
Business email
Video chats for less than 100 people
30 GB storage in the cloud
Management and security controls
The Business Standard plan boosts storage to 2 TB and permits an additional 50 people in video calls for $12/user/month.
The call noise reduction and automatic storage of Google Voice recorded calls in Google Drive are two incredibly helpful features that the Business Starter plan is lacking.
The capacity for video calls (500 people) and additional storage in the cloud (5 TB) is supported by the Business Plus plan. You also receive access to search and archive your call data vault as well as more sophisticated security controls. The cost is $18/user/month for this plan.
The last option is the custom Enterprise package, which gives you complete flexibility and may be modified to meet your requirements through a discussion with Google's sales representatives.
Making Calls From Google Voice
It's easy to make a call from Google Voice, and it nearly feels like you're using a regular phone for it. Either your PC or your mobile phone can be used to do it.
Open the Google Voice app on your phone or go to Google Voice website on your PC.
Go to the "Calls" menu. Hover over the name or number of the contact you wish to call if they are on your list of recent calls. Then click the phone symbol to dial their number. Additionally, you can make a call from the contacts list. Alternatively, you can use the keypad to manually dial.
Last but not least, while making an international call with Google Voice, don't forget to use the country code. For instance, to call the UK, you would type +44 before the contact number.
You must place or receive a minimum of one text or call each month for your Google Voice number to be active. If you don't do that, the Google number will expire after being inactive for 30 days. Once that happens, when you log in, you will be required to register for a brand new number.
Reasons To Try Google Voice
It's easier to handle multiple numbers on Google Voice.
Most people at the very least use a personal mobile phone number.
You may have a specific landline in their residence or place of business. There are others that have a second phone number for work purposes, and some even use a combination of these options.
You can answer calls from various numbers on a single device by using Google Voice and forwarding all these calls to one number.
People may easily manage their landlines, business, and personal calls with this method. Large enterprises, small businesses, and sole proprietors have all tried this solution.
If you manage several phone lines, Google Voice makes everything simpler regardless of your circumstance.
Maybe you are already overwhelmed and don't want to take on another phone number.
But the Google Voice phone number might be the final one you ever use. It's ideal for combining several communication lines into a single location.
Here are some reasons to stop going around with different phones and instead start using VoIP.
1. Free Unlimited Texting With Google Voice
Google Voice is free when it comes to texting. If you're like the majority of people and prefer the idea and convenience of sending a text message, that's a great benefit.
You may send text from Google Voice on your phone. This will make it easier for you to differentiate your personal communication from the professional texts sent using Google Voice.
You can also text whenever you need to from any device or platform. You may use Google Voice on your browser or perhaps add its extension to send and get messages and receive notifications.
This results in the added benefit of consistent platform synchronization. You won't lose your text messages if you have to get a new phone or reset the existing one because they are all kept current across the platforms. You may always look up any information you need by searching the online text archive.
2. Having Gmail Allows You To Make And Receive Calls With Google Voice
Even with a regular Gmail account, you can do free calls to the United States and Canada right from your email inbox. The issue is that each time you call, a random number is assigned to you that the receiver is not familiar with, and the majority of people simply reject calls from unidentified numbers.
Using Google Voice, it is possible to easily fix that problem. All the outgoing calls from Gmail will be with the Google Voice number you've chosen. As a result, recipients will be more inclined to answer the phone when you call.
You are also able to take calls directly from your computer while using Google Chat and Gmail, which is a nice bonus.
3. Voicemail Transcriptions Are Available
In addition to offering voicemail, Google Voice takes things to another level and transcribes your voicemail using cutting-edge speech recognition technology.
For individuals that need to decide whether the voicemail is urgent enough to drop a meeting or for those who simply detest accessing voicemails, this tool is fantastic. Additionally, you can check voicemails for crucial information just as quickly as emails if you receive a lot of them.
4. You Are Able To Direct Every Call To A Single Number
You can redirect calls to different numbers using your Google Voice number. This is helpful when it's time to switch phone providers or buy a new cell phone. You just have to either forward the Google number to your old existing phone number or buy a new mobile phone number and forward it there.
In order to avoid having to give out your Google Voice number to everyone, Google also offers the ability to port numbers with Google Voice. Even though this function has an additional cost, it could be worthwhile, especially if it's crucial for you to maintain your personal and professional contact numbers separately.
5. Forwarding Calls To Google Voice
You can forward all of the calls using this service to one phone number for Google Voice. That's not all, though. To specify which calls should go when and where – set up particular rules for the calls.
Say, for instance, that you don't want to be disturbed since you are taking the day off for playing golf. For the hours you'll be playing golf, you can create rules to have all calls coming to your personal phone diverted to your workplace.
If you want to ensure that you receive a call, another alternative is to set the priority order on phones. For example, if someone calls the forwarding Google Voice number, you could set it up to ring first on your house phone. Then if you don't answer there, it could go to your office. Finally, it will try to reach your mobile phone if neither of the other options gets your attention. Or it is possible to have all your numbers ring at the same time, which is an excellent option for freelancers or small businesses.
6. Real-Time Voicemail
You can hear voicemails as they are being left by using Google Voice. There are only a few phone services that offer this really distinctive feature.
It's an excellent method for swiftly screening messages and calls without having to wait for them to finish.
You can even choose to pick up the phone in the middle of a voicemail process. All you have to do to connect with the caller is click the * button.
7. Conference Calling On Google Voice
One of the best features is conference calling with Google Voice. The service is available for both business and personal conference calls.
8. Recording Google Voice Calls
You may effortlessly record a call on Google Voice, and you can stop and start recording by pressing a button. The Google Voice recorded calls are easily accessible online. This is a fantastic tool for telephone interviews and key meetings. It is possible to save and reference them at any time.
9. Switching Phones Is Easy
This service's unique feature allows you to swap phones in the middle of a call. When you tap the star button, the other linked numbers to the Google Voice account will ring and you are able to answer any one of them. The person that you were communicating with won't be interrupted and you can literally pick up where you left off.
Nextiva – Best Alternative To Google Voice
If you are looking for alternatives to Google Voice, Nextiva is what works for most people since it offers a comprehensive approach to company communication.
Nextiva is an integrated communications platform to keep your team connected. It features world-class industry-leading customer service, unlimited online faxing, 99.99% uptime reliability, an automated attendant, free numbers, call pops, video conferencing, and more. It's in fact my #1 choice for the majority of businesses.
It's a complete VoIP option for enterprises of varying sizes, from Fortune 500 firms to completely new startups. Although Nextiva is a top choice due to its dependability, features, and price range, it may not be the best option for everyone, especially if you don't require most of those extra features.