If you are wondering how to make money on Pinterest without a blog, you have come to the right place.
Throughout the years, Pinterest has swept the internet. Millions of people all over the world rely on the visual search engine, which lets users "pin" pictures and concepts to online bulletin boards. It makes sense that people would want to know how to monetize their Pinterest accounts without blogs.
And Pinterest isn't simply a short-lived trend; it's here to stay. In fact, based on the current trend, it will continue to grow in size and popularity.
Anybody trying to monetize their Pinterest account should be happy about this. Where attention goes, money flows, as the adage goes in marketing. There is a method to get into this goldmine of traffic and clients, regardless of whether you're marketing your skills as a small business owner or selling tangible items.
Hence, if you want to profit from the Pinterest craze, keep reading for some advice on how to monetize Pinterest without creating a blog!
Can You Make Money On Pinterest Without A Blog?
Understanding Pinterest's demographics is essential for making money there.
High-Income Demographic
Recipes and do-it-yourself crafts may be found on Pinterest, but it's also a popular site for social media users who make a lot of money. Nearly half of social media users with household incomes of over $100,000 use Pinterest.
As a result, it's not exactly a hidden gem for marketers looking to market their goods and services to consumers with disposable income. So why does Pinterest appeal so much to high earners?
One benefit is that it's a visual platform that enables people to browse and find new products and concepts easily. Also, Pinterest places a big emphasis on lifestyle pins, which appeals especially to people with large amounts of disposable income. Hence, Pinterest is a platform to take into account if you're trying to reach an affluent demographic.
Pinterest Users Are Shopaholics
As any marketer is aware, loyal customers are the foundation of a flourishing company. And no group of consumers is as fervent as Pinterest users. Pinterest users consider purchasing to be a way of life.
They quickly adopt trends and are constantly on the lookout for new things. 85% of Pinterest users use pins when starting a new project and 80% of them have discovered a new product or brand.
They also don't hesitate to spend money because they view shopping as an investment rather than a luxury.
Pinterest is therefore a marketer's paradise. It allows businesses a direct route to approach customers as well as a captive audience of shoppers.
For marketers looking to capitalize on the power of social purchasing, Pinterest is the ideal platform thanks to its robust search engine and simple-to-use features.
It's A Platform For People To Browse And Find Things
Pinterest is all about inspiration, unlike other social networking platforms like Facebook and Twitter, where users go to catch up with friends and family or read the news. Visitors come to the website when they want to be creative, try something new, or do some shopping research.
As a result, Pinterest has developed into a crucial tool for companies. In fact, 75% of weekly users are always shopping, with users being eager to learn about new services and products.
Businesses now have a tremendous opportunity to contact a huge audience of potential clients. Additionally, Pinterest's emphasis on visual content makes it the perfect platform for listing items and services.
How To Make Money On Pinterest: For Beginners
The most crucial concept for individuals who are just beginning to use Pinterest for monetization is how to use it to increase traffic. There are a few important methods for doing this.
First and foremost, it's crucial to produce eye-catching, high-quality pins that are pertinent to your target demographic. Also, using keywords wisely can make it simpler for potential consumers to find your pins.
You can start directing that traffic to an offer once you've established a consistent flow of traffic. If you can turn visitors into purchasers, whether it's a product you're selling or an affiliate offer, you'll start making money on Pinterest.
Don't forget to concentrate on producing high-quality content, widely marketing your pins, and directing traffic to offers. You'll be well on your way to success if you follow those instructions.
How To Use Pinterest Without A Blog
Although blogs are excellent for content marketing, they are not necessary to monetize your Pinterest account. They can be directed to an advertisement, sales website, or a straightforward opt-in page.
You can also utilize direct linking to affiliate offers, but this is not a particularly effective strategy and some affiliate networks do not let you do this.
Linking to your website or Facebook page is the ideal method to use Pinterest for business so that people can learn more about your programs or services.
How Many Followers Are Needed To Make Money Online With Pinterest? (Pinterest Monetization)
You don't require a sizable following. With as few as 50 followers, you can start earning money.
Having a large following isn't necessary to start making money from Pinterest, but the more followers you have, the more potential buyers you'll reach.
Don't let a lack of followers stop you from beginning a side business on Pinterest if you're considering doing so. You can build a modest following at first and then expand it later. The future? With a little effort, you might even be able to transform your side hustle on Pinterest into a full-time gig.
8 Tips For How To Make Money On Pinterest Without A Blog
Do you now understand how effective Pinterest is as a technique for generating income? There are many methods to generate money on Pinterest even if you don't have a blog.
The following are a few of the greatest ways to monetize Pinterest without having a blog:
1. Printing On Demand: Best Method For Selling Physical Products
With print-on-demand (POD) technology, you can print things just when a customer places an order and work without inventories. Traditionally, you would print items in large quantities and then pray that they would all be sold.
In low-competition categories, it also enables you to produce personalized products, which can be a strong selling feature. You could, for instance, design a personalized mug with someone's name or a famous quote.
POD is a successful model because it reduces a lot of risks, to put it briefly.
First off, it avoids the requirement for inventory purchases, which can consume a lot of resources.
Second, it lessens the possibility of having unsold items lying around.
Thirdly, it enables companies to react swiftly to shifts in consumer demand. A print-on-demand business, for instance, can make and ship a shirt within a few days if a Pinterest user finds one they like and wants to purchase it.
Print-on-demand is such a successful business strategy because of its flexibility.
Also, print-on-demand enterprises frequently don't have a minimum order requirement, allowing companies to test out new product ideas with little out-of-pocket expense.
When a customer places an order, you just forward the order to your POD supplier, who will print and deliver the ordered item to the consumer. With POD, there are almost no overhead costs because you only pay for the things that are ordered. This makes it a very effective way to make money online.
Several people consider Printful to be a POD service that is incredibly user-friendly.
2. Promote Physical Products
Selling tangible items is one of the easiest and most efficient methods to generate income on Pinterest. Simply open a store and begin marketing your goods if you have something you believe will be of interest to Pinterest users.
Products include:
Apparel
Artwork
Jewelry
Furniture
Home Decor
Users can be directed to Amazon, Shopify, Etsy, or simply a straightforward landing page with PayPal checkout. Making it simple for customers to purchase your stuff is crucial.
You must first have eye-catching pins that showcase your products in all their splendor. Keep in mind that Pinterest is a visual medium, so your pins must be interesting and appealing to the eye.
To make sure that your pins are easy to find, you should also write interesting descriptions of your products and incorporate pertinent keywords.
You can add videos to Pinterest if you want to take things a step further and include them in your pins. There are a ton of video marketing tools available to assist, and video is a solid marketing strategy that can help you reach a larger audience on Pinterest.
3. Pinterest Affiliate Marketing – How To Make Money On Pinterest With Affiliate Links
Affiliate marketing is one of the finest methods to monetize Pinterest. Affiliate marketing on Pinterest is the technique of generating a commission by promoting someone else's product.
These are a few reasons for using affiliate marketing to monetize Pinterest:
There is a large selection of products available
Commission arrangements may be quite lucrative
Starting a business in this way carries little risk
No need to have your own product
You are not required to offer any post-purchase services
You are not required to complete orders
Finding things that will appeal to your target market and making pins to promote those products are all that is required. After that, if someone clicks on your pin, they will go to your affiliate link and make a purchase.
The advertiser benefits from increased sales, and you have financial gain by marketing their goods.
You must enroll in an affiliate network for a certain niche in order to begin using Pinterest affiliate marketing. Once your application has been accepted, you will receive a special affiliate link that you may use to advertise products.
You will get paid when someone uses your affiliate link to purchase a product (as a percentage of the sale). It's that easy! Just be careful to support brands you believe in and that are pertinent to your audience. If not, you might be at risk of turning off your supporters.
Select A Niche For The Pinterest Account
Selecting the appropriate niche is crucial for affiliate marketing. This will not only help you concentrate your efforts and locate new clients, but it will also make sure that you can distinguish yourself from the competitors. How do you choose the ideal niche for your affiliate marketing gig?
Here are some pointers:
Make a list of prospective niches as a starting point. What do you enjoy? What do you feel strongly about? What areas of expertise do you have?
Check each prospective niche to see if there is a market once you have a list. Are visitors, for instance, looking for information on this subject (especially on Pinterest)? Are there any affiliates already active in this market?
Check out the competitors. How crowded is the market you're thinking about? Are there a number of major participants in the market already? In that case, you might want to think about picking a different area. As an alternative, if the market is undeveloped or sparsely populated, you may have the chance to enter the fray early and establish yourself as a key player. Competition is not always a negative thing, as it shows that there is already a market. Yet, it could be challenging for you to establish a name for yourself if the market is already crowded.
Choose a few interesting areas from your list and then fully explore each one. Do your best to become knowledgeable about the specific niche. This will enable you to assess whether you have a real passion for it and whether there is sufficient demand to support putting in affiliate marketing efforts in this area.
Don't forget to consider how you will monetize the business! What items or services do customers in this market segment purchase? How can you market those items or services and get paid? Many individuals ignore this important component of the puzzle, but it is one that must be included. It probably isn't worthwhile to pursue a niche if you can't come up with a strategy to make money from it.
Pick your favorite one and begin! The most crucial step is picking a niche you're enthusiastic about and think there's a demand for. The rest will become clear once you've started working on it.
Set Up Your Profile – Pinterest Marketing Strategies
You'll set up your Pinterest profile in the same manner regardless of the type of product you're promoting there—whether it's a digital or physical item, your own, or an affiliate product.
This is how it would turn out: You would first pick a niche, such as, say, home renovation. Next you would create a profile specifically for renovation, complete with pinboards full of information on the most recent renovation projects, budget-friendly tips, and specific tools.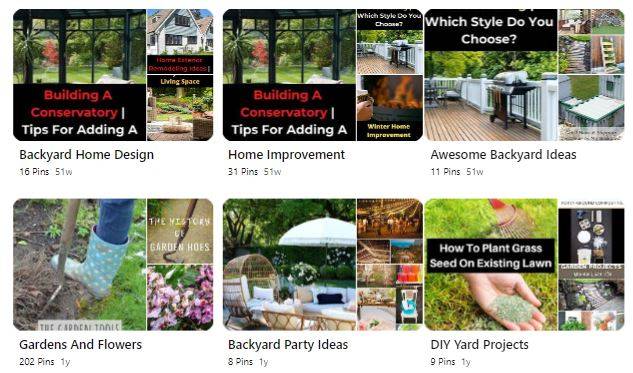 Pinterest Marketing Tips
Choose a memorable account name and profile picture for your business on Pinterest. Make sure your name is simple to say and remember, and that your picture accurately depicts the kind of items you'll be marketing.
Establish Pinterest boards to display your style. Create Pinterest boards for your pins that represent your style and the kinds of things you'll be showcasing. You might, for instance, have a Pinterest board for backyard home design, one for DIY yard projects, one for backyard party ideas, and one for gardens and flowers.
Create pins! Locate beautiful pictures of the items you are planning to recommend and post them to your boards. Ensure that the descriptions have affiliate links so that readers may buy the products you are promoting.
Interact with users. You must be active on Pinterest for your profile to succeed. This entails pinning frequently, leaving comments on other users' pins, and participating in group boards.
Make your profile known. Start promoting your profile on other social media sites and in forums relevant to your niche after you have a sizable following. To increase visibility for your profile, you may also place advertisements on Pinterest.
4. Market Digital Products
Don't worry if you don't have any tangible products; you can still sell digital products on Pinterest and generate money.
Because they can be delivered immediately and require no shipping or waiting, digital products are ideal for Pinterest.
You might provide the following types of digital products on Pinterest:
eBooks
Courses
Templates
Graphics
All you have to do to get going is to make a pin that advertises your digital product. Add a captivating description, a catchy image, and a link to your product's purchase page so that customers can easily purchase your product. This is one of the best strategies if you're wondering how to make money on Pinterest with no blog.
5. Understanding Pinterest SEO – Pinterest Traffic Generation
You must be on Pinterest and perform well in Pinterest search results if you are selling anything online, be it real things, digital items, or even blog content. To help with this, Pinterest SEO is used.
Similar to Google SEO, the objective of Pinterest SEO is to increase the visibility of your pins in search results so that more people will see them and visit your website. Yet, the ways that Google and Pinterest rank content are fundamentally different.
First, Google largely relies on text-based signals like meta tags and keyword density. But, as Pinterest is a visual network, the Pinterest algorithm places more emphasis on board titles, image quality, and pin descriptions.
Make sure your pins are of excellent quality and pertinent to the search terms people are using if you want to appear higher in Pinterest searches. Also, you need to have board titles that appropriately reflect the subject of your board, as well as descriptive pin titles and descriptions.
Finally, you must use Pinterest frequently. The system considers your frequency of pinning, the number of repins your pins receive, and the level of interaction your pins receive. Because of this, your pins will appear higher in search results the more active you are on Pinterest.
Researching Pinterest Keywords
Everyone who wishes to use Pinterest to its fullest potential must conduct keyword research. Fortunately, it's not at all as challenging as it seems. The following are some tips for using Pinterest to conduct keyword research:
Making a list of pertinent keywords is the first step. Think about the interests of your target audience when doing this. For instance, if you're aiming for millennials, "clothing," "travel," or "exercise" might be some relevant keywords.
Start looking for your list of keywords on Pinterest once you have it. Using the search field at the top of the page is the most effective way to do this.
Then, just insert each keyword one at a time. If you work with apparel, you might type "women's apparel" or "summer trends" into Pinterest.
As you enter keywords, Pinterest will offer related terms and phrases that other users have previously looked for. You can see which keywords are commonly used by users by looking at these suggested keywords.
After conducting your searches, review the results and take note of any popular pins. Your content should be targeted at these pins.
Lastly, you can begin implementing those keywords into your pin descriptions and boards once you have a better understanding of which phrases are most popular on Pinterest. This will ensure that your content is viewed by as many people as possible.
6. Promote Your Own Services – Pinterest For Business
If you have a skill or service to sell, you can advertise it on Pinterest.
Let's say you work as a freelancer. You want to advertise your tech services on Pinterest, but you're not sure how. Don't be afraid! Here are three quick ways to get this going:
Provide a lead magnet. This may be a cheat sheet for creating the ideal design or a PDF guide to building SAAS products. Of course, this could differ depending on the markets you target. Then, make pins that point to the download page for the freebie. Let your pins stand out by combining eye-catching graphics with captivating writing.
Offer the lead magnet in return for an email, then utilize that list to market your tech services. A straightforward landing page can be made using a tool like Unbounce, LeadPages, or ClickFunnels. By generating emails, you can make sure you're making the most of the traffic you do manage to get through Pinterest.
Attract traffic from Pinterest to your Facebook company page and strike up a conversation! Don't worry if you don't have a blog. Setting up a Facebook business page is quite simple. Your company would get credibility as a result of this!
Use Pinterest to direct visitors from Pinterest to your Facebook business profile, which you can then utilize to advertise your tech services. It's a terrific method to use the power of social media and attract more attention to your company.
7. Promote Those Who Are Growing On Pinterest
For businesses and creators trying to make money online, this social media site is a gold mine.
The people who locate the gold and those who sell the picks and shovels stand to benefit, just like in any other gold rush.
Pinterest has a ton of unrealized potential, which content creators have started to capitalize on.
There will be a rising need for services that assist users in making the most of Pinterest as more and more individuals attempt to profit from this social media gold rush.
Here is where you step in. You can help content creators in producing eye-catching pins that will stand out from the competition by providing services like graphic design, Pinterest manager, and virtual assistant for Pinterest.
Do you excel at Canva? Selling Pinterest templates can be quite lucrative if you are skilled with Canva and have a keen eye for design.
Canva is a terrific tool for anyone wishing to save time while producing stunning visuals. Put your designs on Etsy or even Pinterest itself to start earning money (passively) by making templates that people can use repeatedly!
Hence, instead of searching for the gold on Pinterest, think about selling the picks and shovels.
8. Partnerships With Brands And Program For Creator Rewards
A beautifully organized Pinterest board and aspirational influencer status may make you eligible for the Pinterest Creator program. The goal of the program is to assist participants in converting their love of pinning into a viable source of revenue.
What if you could receive compensation for your work? The new Creator Rewards program on Pinterest is designed with that in mind. The social media platform has introduced this ground-breaking strategy to emancipate creators financially, giving them the chance to earn money each month by publishing high-quality content and interacting with their audience.
Each creator will have monthly reward goals set for them by Pinterest based on how well they do, and those who reach their goals will share in the money made from the advertising that is placed on their accounts.
You must be at least 18 years old, reside in the United States, and have a minimum number of followers and views to qualify for the program. You will get access to exclusive content and opportunities to help you develop your online presence if you are accepted into the program.
Partnerships With Brands – Pinterest Influencer Marketing
Brand alliances are mutually beneficial strategic connections between two brands.
There are various kinds of brand collaborations, but one of the most popular is when a company collaborates with a Pinterest influencer or social media account. Influencers and brands can both benefit from this kind of cooperation.
Brands may harness the influence of creators' audiences on Pinterest by working with an influencer.
Brands can reach a new audience and market their items or services more authentically by collaborating with an influencer who has a sizable and engaged following.
Moreover, brand alliances can aid in a brand's legitimacy and trustworthiness among consumers. Customers are more likely to trust a brand, for instance, when they perceive that it is supported by an influencer they respect.
Collaboration with a brand can be advantageous for creators in a number of ways.
In the beginning, it can help with brand awareness and audience growth.
Second, it might give them a different source for earning income.
The ability to access unique items or experiences that they can share with their followers is the ultimate benefit. If they are well-planned and implemented, brand partnerships may benefit both businesses and influencers.
How To Contact Brands To Do Sponsorship – Pinterest Promoted Pins
Let's say you intend to use Pinterest for sponsored content. Fortunately, companies constantly seek for influencers to aid in the promotion of their items and services. But there are a few things you need to do first before you start randomly emailing businesses.
Verify that your account is in great shape. This entails producing top-notch content that is congruent with the aesthetic and voice of your brand.
Expand your audience. Your appeal to brands will increase as you gain more active followers.
Put together a media kit. This document needs to have details about your accounts, like the number of followers you have, your engagement rate, and the kind of content you post.
Start contacting businesses you believe will work well with your brand. Be respectful and professional once more, and don't forget to provide your media kit! You will have a better chance of obtaining a sponsorship if you take these actions.
Final Thoughts – How To Make Money On Pinterest Without A Blog
It's all done now! You should be very familiar with how to monetize Pinterest without a blog by this point. This social networking platform is very potent, as we've seen, and it can be a terrific method to make some extra money.
Yet, there are a few crucial actions that you must take if you want to succeed. You might even be able to leave your day job and work exclusively as a professional Pinterest pinner if you put in enough effort.