This beginner's guide to the development of a brand will be helpful in creating a strong brand that will last through thick and thin, regardless of whether you are starting a new company or rebranding your current one.
It's common to use the words "business" and "brand" synonymously. Although the definitions in the dictionaries may be comparable, I don't believe this is a fair exchange.
A business can be started by anyone. However, creating a brand involves much more than just registering your LLC and opening a corporate bank account. A brand is more than just a logo or tagline for a business. It is how a person feels when they hear or see your name.
The most effective marketing tool in existence is branding. Establishing your brand can mean the difference between failure, mediocrity, and success for both individuals and enterprises.
What Is Brand Identity?
Essentially, brand identity is the reputation of your business. It doesn't matter what you say about yourself; what matters is what other people think of you.
Brand identity is not about a single element of a company. It is made up of a variety of factors, including the company's ideals, product offerings, communication style, logos, color schemes, and more. All of these components represent your brand to the public. But ultimately, how the public sees those elements shapes the identity of your brand.
Brand Identity Example
McDonald's is a great example of a company having a brand identity.
The golden arches form the foundation of the McDonald's brand. But it goes way beyond that. What comes to mind when you see or hear that name? Some of you may have Ronald McDonald in mind. Others picture a Big Mac and fries in their mind.
Regardless of what you may think, McDonald's has become a household name. This business has reached the pinnacle of a fast-food chain; people know what to expect from them.
Why Invest Time And Energy Into Brand Building?
In a sense, your brand is the public face of your company. You can't stand out from the crowd if you don't have some form of identity. To differentiate themselves in crowded markets, businesses need a brand.
Businesses and customers can establish credibility and trust through branding. It is what first draws customers to you and makes them return for more in the future.
Even the pricing strategy may be impacted by your brand. Customers are willing to pay more for trusted brands.
Brand Examples
Why do people spend so much on a cup of Starbucks coffee? Branding.
Whether you enter a Starbucks in Boston, New York, London, or Toronto, you know what you are going to get. A gas station or a neighborhood bakery may offer a larger cup of coffee at a lower price, but they lack Starbucks' brand recognition.
Starbucks doesn't sell coffee; instead, they market their brand and sentiment.
T-shirts from Gucci cost $500+. Apple charges $1,000+ for phones. Sneakers from Nike cost $250+.
What distinguishes that t-shirt from others that cost $5? Why is the value of an iPhone so much higher than that of a $100 phone? Are Nike items truly 5 times better than a regular pair of sneakers?
That is why you should put the effort into the development of a brand.
10 Tips For The Development Of A Brand
It's time to create your own brand now that you are aware of brand identity and the significance of building a brand. This is not a process that happens quickly. But here are some tips on how to get started.
1. Establish The Goal Of Your Brand
What is the purpose of your business?
You are in it to make a profit, but that's not the kind of goal that will help you build a strong brand. It has to extend beyond the goods or services you're providing.
Say, for instance, that your company provides online delivery of health supplements. What is the goal of the brand? You are not just selling supplements. You are offering convenience and nutrition to health-conscious professionals who are too busy to go out and do shopping.
The goal of your brand may be expressed in a well-written mission statement once you've done extensive research and fully defined it.
The most important portion of a mission statement is the "why" part. For the consumer, that information will be of utmost importance. This is what sets your business apart from other businesses that are engaged in the same activity.
Your brand will ultimately be determined by your purpose. It becomes what your consumers expect when they make a purchase from your company and establishes the norm for how your team and staff behave.
2. A Company's Brand Needs A Defining Voice
After determining your target audience, you must create a brand voice that appeals to them. There are different approaches you could take here.
Do you desire professionalism? Do you have a sense of humor? Are you attempting to be informal?
Every piece of content for your brand needs to have a unified tone across all channels. Your voice needs to be recognizable to your target audience via your website, social media posts, blogs, and advertisements.
Here is an example of an ad run by Dollar Shave Club:
Instead of hiring a production crew to shoot a high-end video, the CEO decided to become the main character to talk about their blades. The tone of speaking is really casual. The ad is blunt, unconventional, and outrageous. The company employs a casual and lighthearted way of requesting individuals to try their brand.
The company does not aim to please everyone. Dollar Shave Club caters to individuals looking for a cool shaving option to try. Families or grandparents are not their intended targets.
An HR firm's brand voice will not be the same as that of a company selling golf clubs. Similarly, a retailer selling t-shirts to young boys shouldn't have the same brand voice as a B2B company offering business software.
3. Determine The Brand's Target Market
Who needs to purchase what you are offering?
The most crucial part of branding is determining your target market. Your brand-building plan will suffer if you skip this phase.
Don't strive to make your business appealing to everyone; your brand of product or service is not for everyone. Consider some of the companies we've discussed in this article so far, such as Apple, Starbucks, McDonald's, Gucci, and Nike. Each of those brands appeals to a particular target market.
Keep in mind that branding is a part of marketing; don't forget that. You must approach your branding strategy the same way as other marketing initiatives.
Without knowing your target market, would you run a Facebook ad campaign or television ad? Probably not.
You'll understand the significance of the target audience for your branding strategy more as you go through this article.
4. The Story Of The Brand
The tips that we've covered so far are all included in the brand story. Consider the brand story to be an extension of your mission statement's "why."
The justification for doing business should be expressed in your brand voice and appeal to your target market.
Here is a great example from IKEA.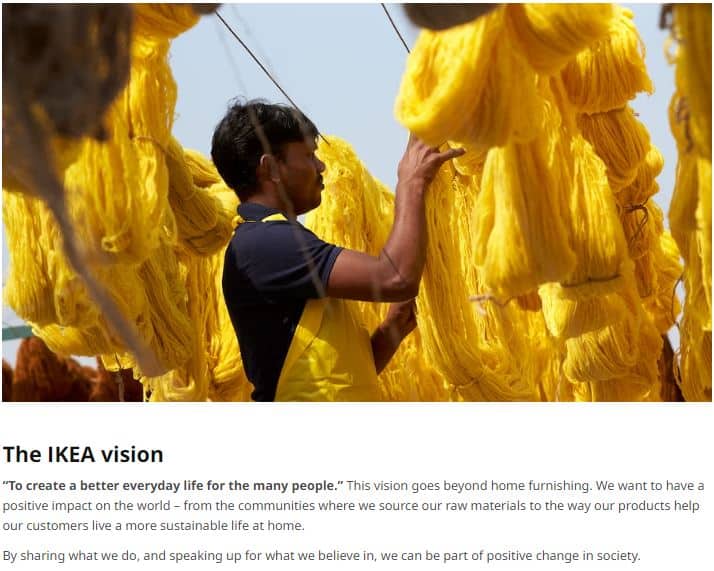 Ikea sells furniture and home products. But this brand doesn't stand for that. Take a look at the brand's narrative that shows the organization's vision.
This company is about making a positive impact on the world. The business sources its raw materials in a way to ensure more sustainable living across the world.
Their brand tone is suitable for their intended audience. It's uplifting and intended to appeal to those who desire to assist others.
Because of their vision, IKEA is in a different league than other home and hardware stores like Home Depot or Walmart. The story of the brand perfectly captures all of this.
5. Positioning A Brand
What distinguishes your brand from others in your sector? You must spend time analyzing your competitors to see what they are up to.
You'll be able to figure out which branding tactics work and the ones to avoid by keeping an eye on your competitors.
Avoid using the same branding approach as competing companies in a crowded market. It will be difficult for a new business to enter the market and succeed if other businesses have successfully branded themselves. Customers will already have strong brand loyalty.
Consider the cases I mentioned earlier in this article. It would be a bad idea to try to copy McDonald's branding if you wanted to start a fast-food chain. You would need to select a different market and strategy.
Tim Hortons is definitely something you've seen or heard about if you've ever visited Toronto. This neighborhood chain now has over 500 locations in the United States.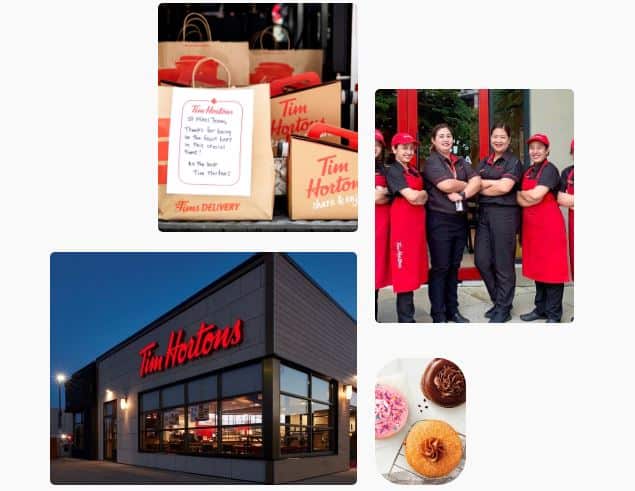 Tim Hortons is not attempting to imitate Starbucks. Every coffee shop has a feel-at-home atmosphere and experience where people could go get their breakfast or relax in the afternoon.
While competing with other neighborhood coffee shops and national giants like Starbucks, this business is able to flourish thanks to its branding strategy.
6. Design The Visual Components For Your Brand
It's now time to design your brand's visual identity. How will people recognize your business?
Specifically, you need to think about your logo, color scheme, and typography. These serve as the foundation for a company's brand design.
Consider the siren at Starbucks or the golden arches at McDonald's. You can tell what those logos stand for the moment you see them. The font used for your company name in the logo, for example, might reveal a lot about the brand identity.
Look at the MailChimp logo.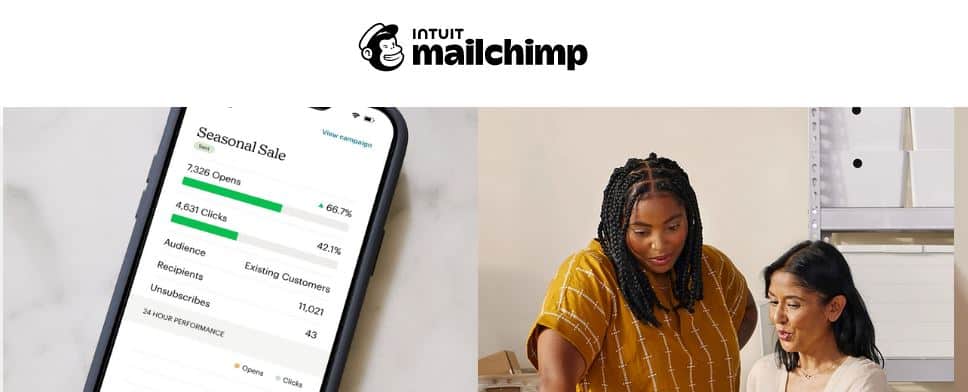 Mailchimp's brand features amusing design elements and eccentric graphics. Given the audience that this brand is trying to reach, I don't think this was a coincidence. What some people find entertaining and unusual may upset some people and turn them away.
Now, let's look at the logo of Spotify.

For a company that prioritizes music, Spotify's visual design is surprisingly understated. The colorful album covers that are played on the streaming platform take precedence over a subdued color scheme of black, and white. Three horizontally curving lines in a circle make up the simple logo, which symbolizes the flow and motion of sound. If you look closely, you'll see that it's crooked, giving the logo a humanistic sense.
These two varying types of logos demonstrate how the aesthetic components of your branding strategy can affect the perception of the brand.
7. Build Your Brand Presence
It's time to build your presence now that all of its components have been defined.
Develop a website. Create accounts on social media. Build a presence across as many marketing channels as you can.
It may be tempting to start promoting your brand early on. But before establishing your brand voice, it's hard to write website copy. Until you design your logo and other visual components, you won't be able to choose an effective color scheme. Without figuring out your brand's vision and purpose, your "about us" page will not resonate with the audience.
Your entire branding approach will suffer if you do things pre-emptively. But if you have already figured out your voice and differentiated your brand, everything will fall in place when you start to build out your brand.
8. Market Your Business
Once your brand has been established, you should begin to promote it.
The specific marketing initiatives will differ from company to company. Everything depends on the kind of brand you're building. A regional software company won't employ the same marketing tactics as a neighborhood coffee shop.
Any promotional campaign you undertake should be consistent with your brand, whether you are running social media ads, email marketing, PPC campaigns, guerrilla marketing, radio ads, etc.
You can ensure higher earnings by presenting brands consistently across all platforms.
What is the voice of your brand? From digital advertisements to billboards and everything in between, it should be consistent.
9. Adapt Your Brand As Needed
Be ready to change and adapt to the times. Your current branding approach might not work in the future. A company's brand needs to change in response to consumer demand or market changes; even negative PR may necessitate a rebranding of your organization.
Some of the most well-known firms in the world have notably rebranded themselves for a variety of reasons.
Research In Motion (RIM), the famous smartphone maker rebranded itself as Blackberry. The name change was meant to end the 2-name ambiguity that required the business's strongest brand (Blackberry), to have the company name clarified every time it was cited in the media.
Basketball shoes were never sold by Nike until Michael Jordan was on board. They currently sell the highest number of basketball sneakers worldwide.
Even McDonald's has a bad rep for being unhealthy and contributing to obesity. Fruit smoothies and salads are just a couple of the many healthy options that McDonald's now provides.
Old Spice had trouble attracting youngsters. They were known for being the deodorant for older men. But savvy branding, fresh advertising tactics, and the introduction of novel product lines like body wash drastically altered how the public perceived this brand.
Your brand won't endure the test of time if you don't adapt.
10. Encourage Others For Becoming Brand Ambassadors
Powerful branding catches on quickly. You should develop marketing plans that encourage your current customers to recommend your company to others.
Encourage client testimonials. Promote your business to encourage referrals. Come up with a program to reward repeat customers. Collaborate with influencers who can boost your brand.
Here is a simple example. Coke doesn't appoint fortune 500 CEOs as brand ambassadors. They are not a good fit for the range of products they offer. Coke instead goes for celebrities and sports stars.
According to Seth Godin, a brand is a set of expectations, memories, stories, and relationships that, taken together, account for a consumer's decision. Associating with the right people can therefore help you connect better with your target customers.
It is a lot easier to build your reputation if you can get others to support and advertise your business for you. Not all brands have a good reputation. Because of this, it's important to take it seriously and manage your reputation through positive word of mouth.
Conclusion
Without a distinctive identity, your company will only be another unrecognizable entity. You won't be noticed easily among the crowd, and generating a profit will be difficult.
But creating a brand identity can work wonders for a company.
By building your brand, you may raise your prices, gain the customers' trust, and keep them returning for more. Because your brand represents your reputation, you must follow the necessary steps to build a powerful brand.