Are you wondering how to improve conversion rate optimization? This article covers various strategies, as well as some options for you to consider if you are looking for a conversion rate optimization tool.
After spending over $200,000 on conversion rate optimization (CRO), one of the most important lessons I learned was the value of collecting both quantitative and qualitative data before starting to test. If data is not collected, you'll have to depend on your instincts to decide what to improve.
This is a bad idea that can result in a waste of time and resources. Spend a few weeks collecting data so you can evaluate based on what you've learned rather than your gut instinct. You'll end up doing several tests that can fail if you don't take this measure.
Collecting Data For Conversion Rate Optimization Strategies
It's crucial to collect both qualitative and quantitative data rather than just looking at figures. Quantitative data is a good place to start, but it doesn't tell the whole story.
As a result, you'll need qualitative evidence as well, which means asking current and future customers questions regarding your service or product. Qualitative responses give you more information about why consumers buy or don't buy your product or service, and they often provide the most significant breakthroughs.
To collect qualitative data, use resources like SurveyMonkey.
Finally, having a lot of data is preferable to not having enough. Identifying trends and finding valuable information with 50 survey answers is easier than just 5. Yes, both the cases will provide you with relevant information, but you will be able to learn a lot more with additional details.
You can always disregard extraneous information if it becomes too much, but it's challenging to come to a conclusion based on insufficient data. That is why, before you begin testing, you need to spend a few weeks collecting and reviewing data. You will be able to save time and resources as a result.
Tools For Conversion Rate Optimization
1. Google Analytics

Google Analytics (GA) is the conversion rate optimization tool that most people tend to start with. GA offers details on how visitors interact with your platform, including the part of the funnel where they drop off, and so much more.
Google Analytics is a great place to start when looking for analytical data to learn more about your website and how customers interact with it.
To get started, go to "Conversions" and click on "Funnel Visualization" to view your site's conversion rates for the funnel.
If you don't already have this configured, you'll need to configure conversion goals first, followed by the conversion funnel. The conversion funnel tells you the number of visitors that move to the next stage of the process, while conversion goals give you the number of visitors that convert.
If your website visitors follow a traditional conversion funnel, analyzing this data in Google Analytics can be quite beneficial.
Suppose your SAAS website sends visitors from a landing page to the pricing plans page, then to a registration page, and lastly to the confirmation page. The conversion funnel in Google Analytics would show you the percentage of the audience that go from the landing page to the pricing plans page, and so on.
Knowing this lets you measure each phase of the marketing funnel to determine where a sign-up bottleneck may exist.
If 25% of visitors go from the landing page to the pricing plans page, but only 10% go on to the registration page, you should find out how to reach an optimal conversion rate by getting more users to go to the registration page. Google Analytics conversion funnels and goals help you monitor these important statistics.
How To Measure Conversion Rate Optimization And Analyze Data
After you've set up your conversion funnels and given enough time to collect data, you can analyze the outcome of your conversion rate optimization plan. The most important thing to find out is where people are dropping off in the funnel.
Do more people drop off from step 1 to step 2, or from step 3 to step 4? Take down some notes on where a bottleneck could exist and think about how to improve conversion rate optimization.
You can apply the knowledge you've gained to come up with ideas to test every step of the process, as well as to prioritize the various tests you'll eventually perform.
It's still a little early to begin testing, so make some notes of what you've discovered and start thinking about what improvements you might make to boost the conversion funnel. Also, keep track of your average funnel conversion rate so that you can see the performance of your website.
Load Time For Optimal Conversion Rate
Another important piece of data that we can get using Google Analytics is the site's load times. Navigate to "Behavior," "Site Speed," and click on "Overview" to see how long it takes for your website to load.
The report displays the average page load times, and you would be able to drill down to see the daily average load times for each of the pages.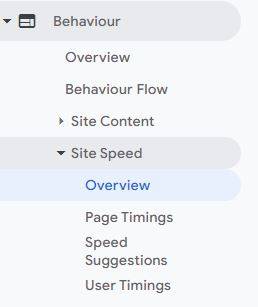 It's important to know how long it takes for your website to load because every bit of time matters. A 7% drop in conversions can be caused by a 1-second delay in page load time.
A 1-second delay could result in $250,000 in lost revenue per year if an eCommerce site makes $10,000 a day. Furthermore, 53% of visitors would leave a mobile website that takes longer than 3 seconds to load.
If your website's load time is high, you can improve site conversion optimization by reducing the load time. Decompressing files, moving to a quality hosting provider, and optimizing the CSS are just a few ways to achieve this.
You can obtain additional data from GA to learn more about conversion rates and improve your site. But for now, we'll focus on page load times and conversion funnels before moving on to qualitative data collection.
2. Customer Surveys
The next stage in the data collection process is to conduct a customer survey. You will discover what inspired consumers to buy by surveying those who completed a transaction or registered through your page. You'll gain more information about the ways to get more customers to register or complete a transaction.
Here are some pointers on how to conduct a good survey:
Don't Overwhelm The Individual With A Lot Of Questions
Longer surveys tend to annoy customers, and everyone's time is important. Customers are more likely to fill out a quick survey if it is presented to them, which means you can get more answers to analyze.
If you need to ask more questions, I suggest limiting the survey to 10 questions or using multiple surveys.
Pose Open-Ended Questions
For some surveys, multiple choice type questions are fine. But to improve CRO elements, you need to get subjective answers given in the customers' own words.
If there are a lot of multiple-choice questions, you'll lose out on valuable consumer feedback that doesn't fit the choices you have listed.
You can work with whatever surveying platform you choose. You can't go wrong with SurveyMonkey which is popular. Google Forms and Wufoo are two other alternatives.
Offer A Giveaway To Incentivize Participants
As stated previously, everyone's time is precious, including the customers. You will increase the involvement of participants in completing your survey by offering a giveaway. This could be a $100 Starbucks gift card or an iPad. Any of these solutions would almost certainly increase the number of people who complete your survey.
After you've chosen a survey service, you'll need to figure out what questions to include. The aim is to pose questions that would reveal what prompted customers to complete the transaction and what roadblocks they encountered that almost prevented them from doing so.
Survey Questions For Conversion Rate Optimization Framework
Here are some good questions to ask:
Did you look at any other options before deciding on [service/product name]?
What would you say to a friend or acquaintance about [service/product name]?
Did anything keep you from registering for it in the first place?
What led you to choose [service/product name]?
What finally convinced you to register for the [service/product]?
Were there any questions or concerns about [service/product]?
What methods can be used to convince more people to select [service/product name]?
How can we convince your coworkers or friends to select [service/product name] more effectively?
When did you know you wanted something similar to [service/product name]? What happened in the business that prompted you to seek out [service/product name]?
With [service/product name], what do you hope to get out of it?
How can you explain our service/product in two adjectives or words?
What issue do you believe [service/product name] solves for you?
These questions should be tailored to your business, niche, or product but they all give open-ended answers that will help you learn more about the customers.
You'll be able to gain a deeper understanding of the things they like about your product or service, the features that they value, the terms used to explain your offering, and so on.
It's fine to ask a few multiple-choice questions that are relevant to your business, but open-ended answers will teach you the most.
3. On-Site Surveys
On-site surveys are another form of conversion rate optimization tool to consider. Google Feedback Surveys and Qualaroo are two possible conversion rate optimization tools for this process.
On-site surveys let you ask questions to the visitors that are already on your website, giving you the ability to survey those who will potentially become customers as well as those who just visit and not buy.
This is the kind of visitor you need to reach out to using on-site surveys. What is the reason for this? Your objective is to determine what is stopping visitors from being customers. You need to find out what's stopping them from performing the necessary action on your platform.
Is it the cost? Does something confuse them? Is there a problem with the website? Using on-site surveys, you can get answers to all of these questions.
On-Site Survey Questions – Conversion Optimization Checklist
The following are some sample questions to ask your site visitors to find out more information:
Is there something that you don't understand on the page?
Is there something that you are unable to find on the page?
What is your main concern about buying [product/service name]?
Are there any further questions that need to be addressed?
Is there anything else you'd like to have on the page?
What is the most important factor preventing you from completing a purchase?
What kept you from completing your transaction today?
How can we assist you in your search?
What is the most pressing issue that we can assist you with?
What could we do differently to help you to finish the transaction?
Is there anything else we can add to the page that will help you with your purchase?
What features do you want in an ideal scenario?
On-site surveys are used to determine what is stopping visitors from turning into customers. The responses will tell you if they'd like to get a free trial and test out the product, whether your rates are not affordable, or if there's another problem.